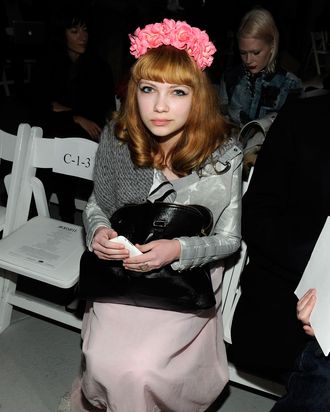 The oracle herself.
Photo: Rabbani and Solimene Photography/Getty Images
The paper of record trailed "the Oracle of Girl World" on her inaugural Rookie road trip across the country, talking to fans while recounting Tavi anecdotes that followers have undoubtedly heard many times. But here's a new one:
At the start of each school year, her father warns her teachers about her extracurricular pursuits. "Some of them seem kind of resentful that I miss a lot of school," she said. But others are covert Rookie fans, and besides, she gets her homework done. "She struggled a little bit early on," said Jay Lind, her freshman English teacher. "She couldn't keep coming in saying, 'I'm a fashion blogger, do you mind if I turn this in two weeks late?' But I think she figured it out."
So, Mr. Lind, what did you think of Rookie's John Waters interview and house tour? It's pretty typical that Waters is a Justin Bieber fan, right?