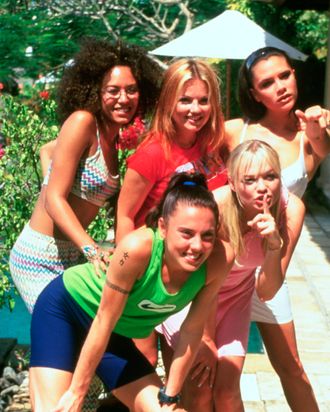 Slam me to the left/ If you're having a good time.
Photo: Ray Burmiston/Photoshot/Getty Images
Playing coy on Friday, when asked by radio station RTE whether the group might take the stage at the event, Victoria Beckham responded, "I would love nothing more … If they're up for something, then I certainly am." And a source told the Telegraph that the girl group was asked to be a part of the show two years ago, and planned to sing two songs (one would be "Wannabe"). Today, likely wearing her Chanel robe and lounging on the stairs of 31 Rue Cambon, Victoria finally confirmed to British Vogue that the Spice Girls would be reuniting for the Games' closing ceremony, and that she apparently "told friends the news last week." We must've missed her call.