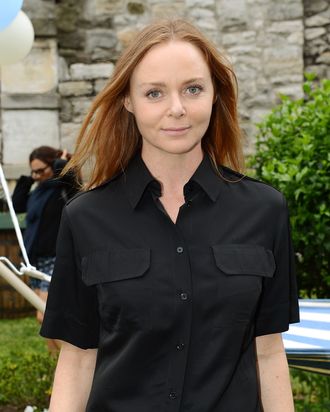 Stella McCartney.
Photo: Andrew H. Walker/Getty Images
Vogue tapped Stella McCartney to be their correspondent at Friday's Opening Ceremony for the London Olympic Games, and her amusing account of the proceedings is on their website today. Some highlights:
My daughter was so happy to see Mary Poppins while I was getting a bit interactive by swinging my light paddle in the air — that was a good workout. There were lot of paper mache [sic] and velcro in da' house, and then Mr. Bean came in and the kids were completely engaged! I could see the torch was coming — and close behind it is none other than David Beckham. He did tell me he was a tad busy and would be late — a tad busy indeed! 
Not "in da' house," however, were any of McCartney's designs. She reminded the world via Twitter — yet again — that she was not responsible for those white-and-gold-lamé tracksuits worn by the British National Team during the Parade of Nations, which were designed by British high-street brand Next.