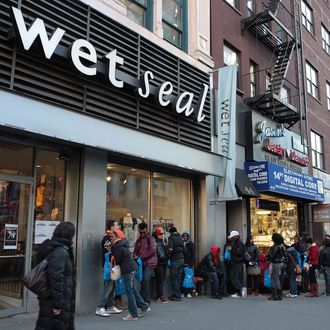 General view at signing of Keri Hilsons new album "In A Perfect World" at Wet Seal on March 24, 2009 in New York City.
Photo: Jerritt Clark/Getty Images
She was let go (despite her contract with the company until 2014) without a replacement lined up. Also, according to the AP, "Revenue in established stores dropped 8.8 percent in May and 9 percent in June, and the company said Monday that revenue at stores open at least a year have fallen 13 percent to 14 percent through the third week of July." That, and three former employees filed a federal racial discrimination lawsuit several weeks ago. Tough times for suburban mall mainstays of the nineties.