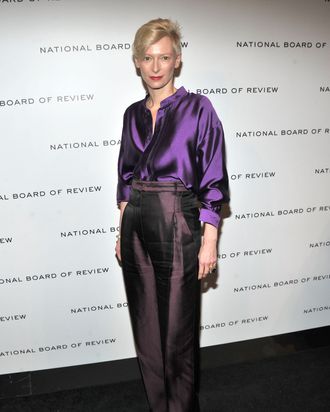 Actress Tilda Swinton arrives at the W Magazine Best Performances Issue and The Golden Globes celebration hosted by Dom Perignon and W Magazine held at Chateau Marmont on January 13, 2012 in Los Angeles, California.
Photo: Stephen Lovekin/Getty Images
As part of the Festival d'Automne à Paris, each night from September 29 to October 1, Swinton will star in Musée Galliera director Olivier Saillard's performance The Impossible Wardrobe, and a short film called The Future Will Last a Very Long Time, shot by Katerina Jebb at Saillard's rehearsals, will be screened on a loop at the Palais de Tokyo during the day. In it, according to WWD, a lab-coat-clad Swinton studies historic garments, while the "ghostly faces" of those who've worn them (including Napoléon Bonaparte and Sarah Bernhardt) are projected onto her.