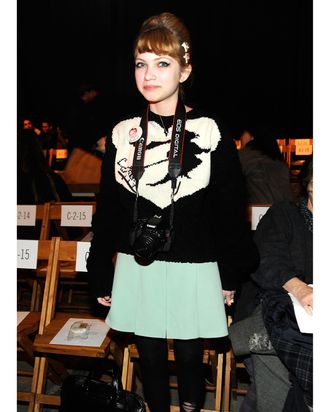 Tavi.
Photo: Rabbani and Solimene Photography/Getty Images
At a reading in Brooklyn last month, Tavi told the Observer "that she's been hard at work on Rookie's first print edition, which should come out this fall," and in her July editor's letter on RookieMag.com, she explains more about the project, which will be "the best of the best of Rookie's content from the school year, starting in September 2011 and ending in May 2012, plus a few extra goodies, including a paper crown by Meadham Kirchhoff, a 45" flexi-disc, and more previously unseen contributions from Rookie friends." A paper crown by Meadham Kirchhoff!
She continues:
It is not, however, a lame website-to-paper copy-and-paste situation. Considering it is mostly content you can read for free online, we knew we had to really take advantage of the print situation and make sure it's SUPER GOOD-LOOKING AND SPECIAL […] I have a very soft spot in my heart for print magazines, and I believe in the power of writing and art that you can hold in your hands, and I promise that looking at all this stuff in print is a different experience from reading it online.
Tavi adds that Rookie Yearbook One will be published by Drawn & Quarterly and priced at $29.95, before signing off, "Thank you for existing." No, thank you.