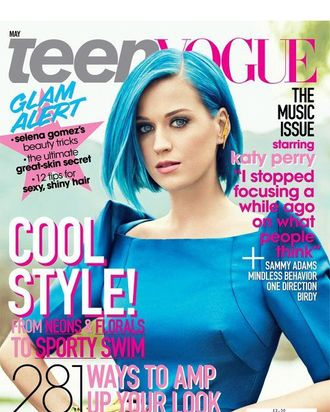 Led by teen activists Carina Cruz and Emma Stydahar, members of the SPARK movement — a group dedicated to ending the sexualization of women and girls in media — gathered outside of the Condé Nast building yesterday to demonstrate against Teen Vogue's use of airbrushing. (They drafted a petition on the matter last week, which is currently just shy of 30,000 signatures.) In the wake of Seventeen magazine making a big to-do over their new "Body Peace Treaty," which editor Ann Shoket published after SPARK pressed the publication to cut back on Photoshop, one might expect Teen Vogue to at least pay lip service to the movement. But instead, Cruz and Stydahar got a brief and fruitless meeting with editor Amy Astley before they were ushered out with free copies of the very magazine they were protesting. 
Reports the Daily News:
[T]he teens came away from the five-minute meeting with no agreement from Astley that she would commit her mag to its own "Body Peace Treaty."

Instead, the girls were handed copies of Teen Vogue.

"It was kind of shocking how rude they were to us," said Cruz.
Meanwhile, Teen Vogue's publicist, Erin Kaplan, issued a statement saying that the magazine is already careful not to retouch models' body shapes in their pictures: 
"Teen Vogue makes a conscious and continuous effort to promote a positive body image among our readers," said Kaplan, adding the magazine features "healthy models" and includes "dozens of non-models" every year.
To be fair, the bottom line of Teen Vogue's response to the SPARK protests is not any different from Seventeen's — Seventeen just spun theirs differently by making a big deal out of their "Body Peace Treaty," which, if you read it, doesn't actually pledge to do anything differently from the way they're done now. (It promises to "never change girls' body or face shapes" in published images, and notes that they "never have, never will.") So while Teen Vogue could have been a little more tactful about the fact that they're not going to change anything, at least they didn't beat around the bush with showy, vague pacts.