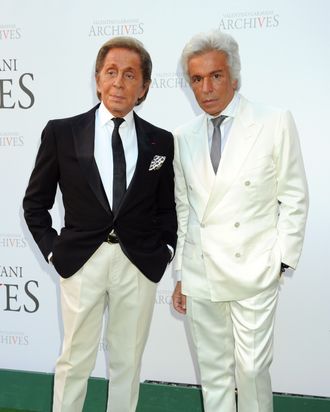 Valentino and Giancarlo Giammetti, moderately happy.
Photo: Dave M. Benett/Getty Images
Yesterday, WWD wrote that Valentino SpA and the M Missoni license had, in fact, been sold to a group called Mayhoola for Investments, "understood [to be] controlled by the royal family of Qatar," for a reported $700 million euros, or $858 million. At the time, neither Valentino himself, nor his longtime business partner Giancarlo Giammetti, commented on the deal, and they kept mum amid speculation earlier in the week, leaving the official statements to Stefano Sassi, CEO of the fashion house. Now, in an update to WWD's original article, Giammetti really lets loose (or as loose as he can in print), saying he and Valentino (the man) are "extremely happy and very relieved. This is a brilliant result obtained by an unquestionable prestige of the brand that we created," also praising the work of creative directors Maria Grazia Chiuri and Pier Paolo Piccioli.
Giammetti adds:
We wish for the Valentino company that it will be able to accomplish future projects with the resources and support that was lacking in recent years, as the company had to perform under a visionless ownership that was only interested in the bottom-line of a future sale.
Well, it sounds like they certainly weren't fans of private equity firm Permira … but who could be anything but happy knowing they'll be part of something called Mayhoola? It's a magical place filled with hula hoops, where it's always May, or so we're assuming.