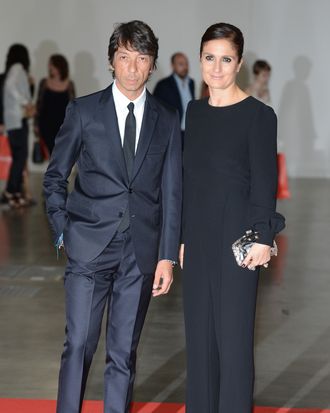 Valentino's creative directors Pier Paolo Piccioli and Maria Grazia Chiuri.
Photo: Venturelli/WireImage
Earlier this week, the Telegraph reported that private equity firm Permira already unloaded the fashion house for £476 million (about $736 million) to an unidentified "sovereign wealth fund," while WWD disagreed, claiming "a sale … could be just weeks away" but pegging the price at £550 million (about $852 million). Today, WWD writes that a deal has, in fact, been reached with Mayhoola for Investments, "understood [to be] controlled by the royal family of Qatar," in which the group picked up Valentino SpA and the M Missoni license business for a supposed 700 million euros, or $858 million. A Mayhoola spokesperson said: "Valentino has always been a brand of unique creativity and undisputed prestige. … Our vision is to back management for the long term to exploit the full potential of this exciting brand. We believe Valentino is ideally suited to form the basis for a global luxury goods powerhouse." In other news: Mayhoola! That's a fun name.