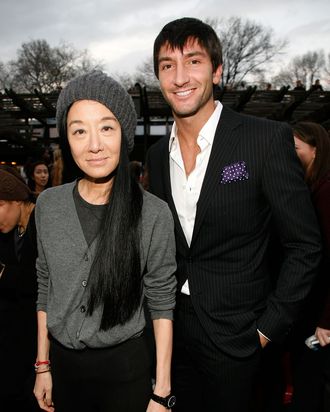 Who sorts the recycling?
Photo: Andy Kropa/Getty Images
Just last week, the designer and her husband of 23 years, Arthur Becker, announced their separation, but the president of Wang's company, Mario Grauso, passed off the split as amicable. Naturally, a series of unnamed people-in-the-know told the Post the opposite ("They used to fight all the time in public, even at dinner. They would berate each other in front of other people, even though it made others uncomfortable"), but the Daily News ran an interesting update today:
According to an insider, 27-year-old Olympic champion figure skater Evan Lysacek moved into Wang's Beverly Hills mansion last month. The source says the 63-year-old fashionista offered Lysacek the opportunity "to stay there for a while."

The status of their current relationship, however, is unclear even to those closest to them. There is "something going on," says the source, while a second insider says Wang is "just enamoured [sic] with him and enjoys his company," and doesn't think a sexual relationship is in the cards. A spokeswoman for Wang had no comment.
Well, Wang and Lysacek are old friends, having worked together in 2009 and 2010 on several of his skating outfits. The Daily News finishes off its report with several more details, including, "Lysacek has been spotted in a white Bentley and with a large, flashy Rolex recently," and that it's "common knowledge" Wang got a face-lift in San Francisco two months ago ("Again, a spokeswoman for Wang had no comment"). So, what do the two of them discuss over dinner? Who does the dishes? Do you think they have a chore wheel?