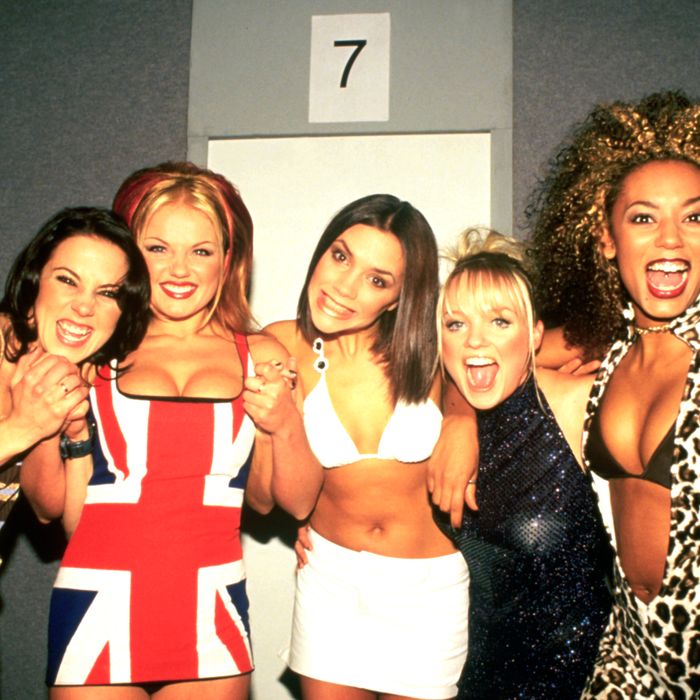 Friendship never ends.
Photo: Ray Burmiston/Photoshot/Getty Images
Amid rumors that Kate Moss, Naomi Campbell, Lily Cole, and Georgia May Jagger could "strut the catwalk to David Bowie songs Fashion and Rebel Rebel" at the Games' closing ceremony, and the news that Alessandra Ambrosio "will participate in the handover of the Olympic Flag from London to Brazil," comes speculation that the Spice Girls could be performing at the event. According to Grazia, when asked by a radio station about whether the group might take the stage, Victoria Beckham responded, "I would love nothing more. It would be great. I don't know about a comeback tour but I loved being back with the girls. If they're up for something, then I certainly am." And a source told the Telegraph that the Spice Girls were asked to be a part of the ceremony two years ago, "but Victoria's hectic work schedule, and the fact that she and Mel B live in the US have always been problematic until now." Supposedly, they're going to sing two songs, and one might be "Wannabe." And Geri Halliwell may wear her Union Flag dress. And we could die from excitement and/or laughter at the totally outrageous lineup the Brits have planned. (Liam Gallagher has reportedly been tapped to play "Wonderwall" — come on!) But nothing's certain.