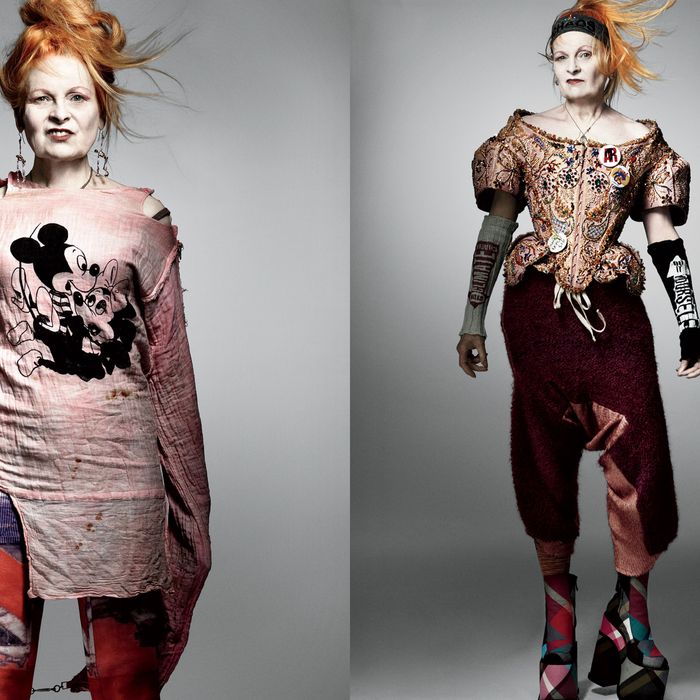 Dame Vivienne Westwood.
Photo: Courtesy of Interview
Dame Vivienne Westwood talked to Style.com's Tim Blanks for August's Interview magazine, and began their discussion with a long spiel about global warming, claiming that the only reason she ever does interviews is to spread the word on climate change. So Blanks duly notes this in his introductory paragraph and proceeds to edit the rest of her lecture out of the interview, which focuses on dishier subjects like clothes, makeup, and nudity — things that Westwood has plenty to say about, too.
Oh, I think I've had an incredible influence, for the worst, a lot of the time, because people think they don't have to put hems on anything. Which they don't necessarily. But on the wrong fabric, a bit of torn hem looks horrible. But the way people cut things is very influenced by me. I'm not sure what I think about current fashion, though. A few years ago, I would have said it's really, really bad and you hardly ever see anybody looking good. There must be some very good designers in the world. And Saint Laurent and Balenciaga must have influenced people a lot. But I don't always follow everything everybody does 'cause I don't really ever look at fashion magazines unless there might be something of mine in it and somebody says, "Have a look."
In other news, she wants everyone to know that Jane Mulvagh's biography of her (Vivienne Westwood: An Unfashionable Life) is a bunch of crock: "I didn't want to do the book because I don't like people who get on your back and want to be more important than you, and that's what she's like … so it's all a lot of rubbish." So! In case you were wondering what she thought about that.