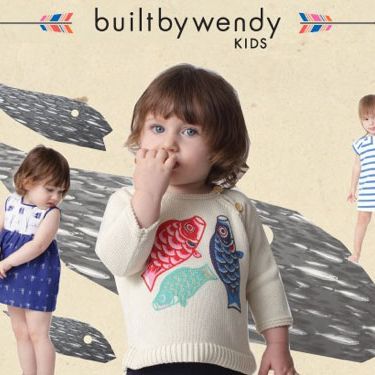 A first look at Built by Wendy's new kids' collection.
Photo: Courtesy of Built by Wendy
New York–based label Built by Wendy, beloved by Brooklyn moms and urban hippie types (one Cut staffer describes its look as "prairie girl meets hipster"), is closing its store in Little Italy for good on July 28. But designer Wendy Mullin's trademark canvas pants, sturdy denim, and floral sundresses will still be available on her website and via wholesale, so she's hardly winding down her business. If anything, her store's closure will give her more time to focus on expanding her label: She recently revived her men's denim line, which she discontinued in 2009, and will launch a childrenswear collection for spring 2013.
Mullin began shifting her focus to kids' clothing after she gave birth to her daughter almost two years ago, according to her publicist, and she showed her first range at the Playtime trade show in Paris last week. Designed for children ages 6 months to 6 years old, the pieces will all cost less than $100 and will hit stores in time for the coming spring. In the meantime, her womenswear collection will still be available at Barneys Co-op, Steven Alan, and Jumelle. Perhaps best of all, there's a big closing sale at her store happening right now through July 28.