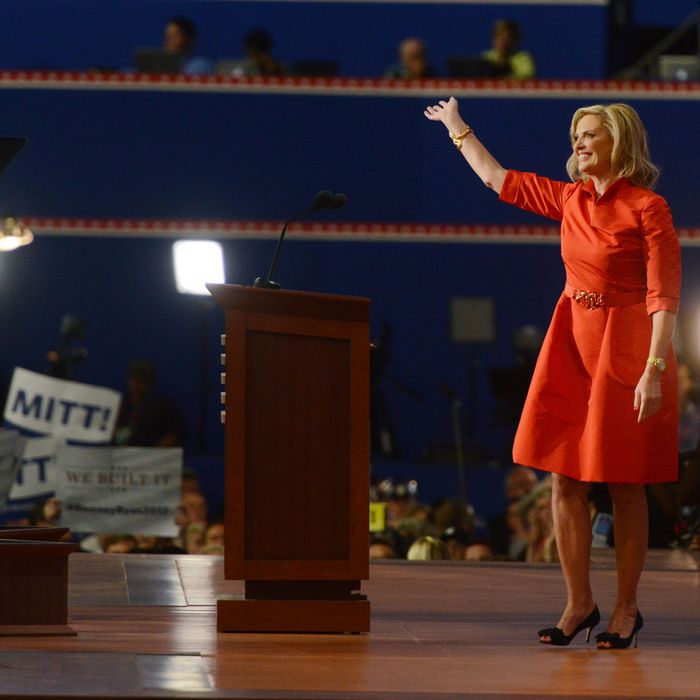 Ann Romney in Oscar de la Renta
Photo: The Washington Post/Getty Images
Ann Romney made her grand entrance at the Republican National Convention last night in a bright red silk taffeta dress by Oscar de la Renta, a particularly dramatic choice because he has never been worn by Michelle Obama during her tenure as first lady. In fact, Michelle has ignored de la Renta to the point where he has expressed some grumpiness about her style choices, even admitting that he was "dying of jealousy" when she wore a Peter Soronen dress to the Governors Ball in 2010. He was incensed when she wore Alexander McQueen to a state dinner for Chinese president Hu Jintao in January 2011, telling WWD at the time:
My understanding is that the visit was to promote American-Chinese trade — American products in China and Chinese products in America. Why do you wear European clothes? 
He added:
I'm not talking about my clothes, my business. I'm old, and I don't need it. But there are a lot of young people, very talented people here who do.
Considering that Michelle Obama helped boost the careers of many fashion designers like Jason Wu, Prabal Gurung, and Narciso Rodriguez* (she has also worn pieces by de la Renta's son Moises), many people chalked up de la Renta's criticism to sour grapes. Indeed, he's used to being a favorite with both Republican and Democratic first ladies, including Laura Bush, Nancy Reagan, and Hillary Clinton — who continues to be such a faithful client that she wore his creations to her daughter Chelsea's wedding as well as to Obama's inaugural ball. 
De la Renta's beef with Michelle aside, Ann's choice of dress was a very safe one. The cut itself is conservative and flattering, with elb0w-length sleeves, a fold-over collar, and a trim belted waist. The FT's Vanessa Friedman pegs the retail cost as ranging between $2090 and $2,490, not that such a price tag is unusual for political wives' outfits at such a highly visible moment. This was no bird shirt moment, in other words.
Related:
Let's Talk About Ann Romney's Bird Shirt [Updated]
Dressing to Stump: Ann Romney's Campaign Style 
* Yes, Narciso Rodriguez was well-known long before Michelle wore his dress on election night, but she definitely gave his brand a big leg up when she did so.