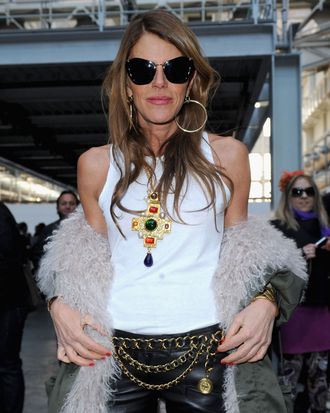 Anna Dello Russo attends the Costume National Homme fashion show on January as part of Milan Fashion Week Menswear Autumn/Winter 2012 14, 2012 in Milan, Italy. on January 14, 2012 in Milan, Italy.
Photo: Tullio M. Puglia/Getty Images
Here's a neat little rumor buried in this month's Glamour: When she's stuck wearing minidresses in mid-winter, Anna Dello Russo counters the cold weather by sticking athletic heat patches to the small of her back. (Presumably the last few season's worth of shows have not provided enough ostentatious coats for her liking.) Sensible idea, though, because nothing could be worse than catching a chill and sneezing on Anna Wintour when you're sitting next to her at Chanel.