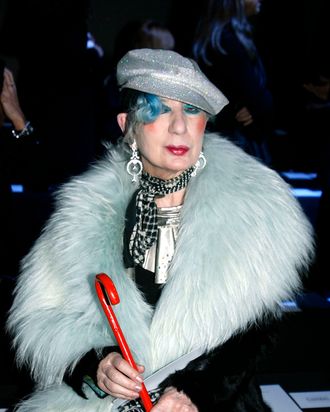 Piaggi in 2007.
Photo: Eric Ryan/Getty Images
The fashion writer, known for her double-page spreads in Vogue Italia as well as her vibrant wardrobe, passed away this morning in her Milan home. Italian site Stylosophy first reported the sad news, followed by several other blogs and D, La Repubblica's style magazine. Franca Sozzani tweeted: "23 anni di lavoro insieme, migliaia di D.P. realizzate insieme. Ti ricorderò sempre Anna," which translates to, "23 years of working together, thousands of D.P. carried out together. I will always remember you, Anna."
After a stint at Mondadori publishing house, Piaggi started her career as a journalist in the sixties, editing Arianna, one of Italy's first women's magazines. She joined Vogue Italia a decade later and introduced her double pages ("doppie pagine"), a hodgepodge of photos and text, in 1988. She also contributed to La Settimana Incom, Vanity, Epoca, Linea Italiana, Annabella, Panorama, and L'Espresso, according to the Telegraph.
Karl Lagerfeld sketched ten years' worth of Piaggi's outfits in his 1986 fashion journal. In 2006, London's Victoria and Albert Museum put thousands of her gowns and shoes on display for its "Anna Piaggi Fashion-ology" exhibit. And in Bill Cunningham New York, the street-style photographer called Piaggi "a poet with clothes."
Vogue Italia put a statement on its website, reading in part:
The news of her death leaves us dismayed and at a loss for words; gone is Anna Piaggi whom we will no longer see collaborating with art directors, graphic designers, photographers and illustrators. She will be sorely missed at the front rows. Gone are her greetings, her always smart and insightful opinions and comments. Anna Piaggi who will no longer be seen beaming posing next to young, or very young, newcomers. She will be terribly missed by the many and many devotees who, year after year, generation after generation, never ceased to find ways to get in touch with her, approach her and exchange a few words. A legend.
Anna Dello Russo told The Cut, "We are all saddened for the loss of Anna Piaggi. She was a style icon, a journalist, and a writer. For 23 years, her double pages in Vogue have always set trends."
Piaggi was married to Alfa Castaldi, who died in 1995. We'll add to this post as we receive more information.
This entry has been updated throughout.