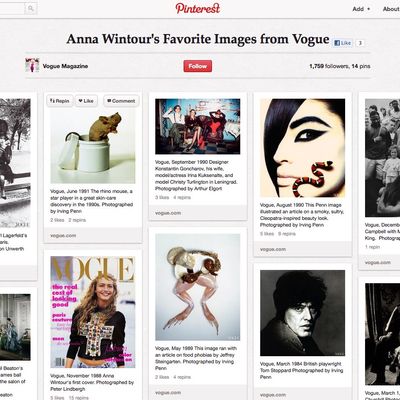 Anna Wintour's Pinterest page.
Photo: Pinterst.com
Vogue is going to great lengths to celebrate its 120th anniversary: They emblazoned their September cover with a big red banner, shared Anna Wintour's favorite archival photos on Vogue.com, and even had Anna write a post about how her first cover model, Michaela Bercu, had to wear jeans because she'd gained weight and outgrew the couture they'd ordered for her. But what better way to show that Anna's keeping up with the times than by having her create a Pinterest page? Just kidding, Vogue's social media intern totally made that!* But still, the image choices are quite intriguing — there's lots of Irving Penn, including a photo of raw frog legs as well as a wrinkly little rhino mouse crawling out of a face lotion jar. 
* A rep from Vogue has confirmed that Anna personally selected all of the photos on her Pinterest page — not that we'd expect anything less, of course.