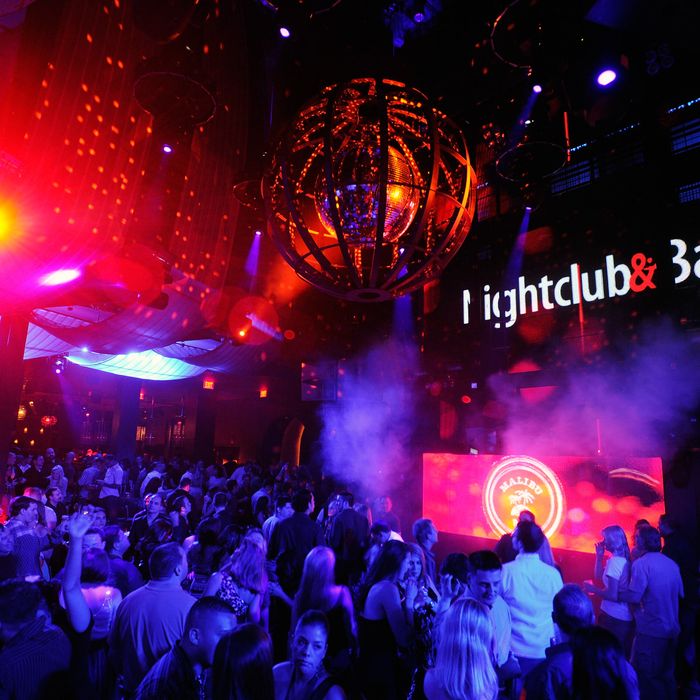 Photo: David Becker/WireImage
If you've never been to a Champagne-soaked, middle-brow megaclub, you might find GQ's Heart of Darkness–esque "The Best Night $500,000 Can Buy" — about spending 24 hours in Marquee Las Vegas, the country's biggest nightclub — surprising and informative. Like, did you know that if you pay for a table reservation ($1,000–$10,000), you can order girls like bottles of Grey Goose? (Which you better also have or they won't want to sit with you.) Simply dispatch your "semipersonal security guard," Joe.
GQ's Devin Friedman writes:
"Do you just want to sit back and chill?" [Joe] said to us. "Or do you want me to go find you some girls? Do you have any preference on girls?" What were the five of us — four married, one affianced — supposed to say? I would like someone without any of the hepatitises? I would like someone who will get impossibly turned on when I'm taciturn at cocktail parties?
Later another security officer would tell me, "Some guys get racial and say, 'I only want Asian girls' or 'white girls.' Or they'll be like, 'We only want blondes' or 'brunettes.' But a lot of guys say, 'We don't care, just bring us some sluts.' "
In order to keep the club at least 50 percent girls/sluts, Marquee employs more than 80 full-time promoters, like one, Bhagya, who told GQ he has culled his guest list by approaching a certain kind of girl at competitor clubs. "Elite girls … You know. Good-looking. Up girls."
If a woman is "elite," she's given drink tickets and delivered personally to a bottle-service table so that there's some nice ornamentation when the table customers arrive. The "filler" girls — that's what they're called, filler, like the cornstarch in the McNugget mix — are taken to a special line near the Boulevard Pool, filtered through an entrance, and set loose to roam the club. All this is done before the crush starts, before the bottle-service customers arrive, so that dudes who are paying thousands of dollars don't have to walk into an empty club.
But you don't have to feel sad if you get herded into the filler line (although you are missing out on free drinks). Elite, filler, waitress, hooker — men can't tell us apart in our identical Herve Leger dresses and YSL Tribute heels (or their knock-offs). 
[A]ll of them, like really all of them, were wearing virtually identical tiny dresses and platform shoes that used to be a kind of sartorial wink that meant: I get paid money to give blow jobs. Which, this being Las Vegas, a few of them really do. It's like all the women banded together to try to camouflage the actual hookers. You know that scene in V for Vendetta when everyone has to wear the Guy Fawkes mask so no one knows who the real terrorist/freedom fighters are? It's like that, only with magic butt dresses.
Wow. I never thought I would find "magic butt dresses" and shoe technology previously reserved for sex workers empowering but that's kind of moving. Way to keep 'em guessing, Marquee womyn. Live every day like it's a Slut Walk.