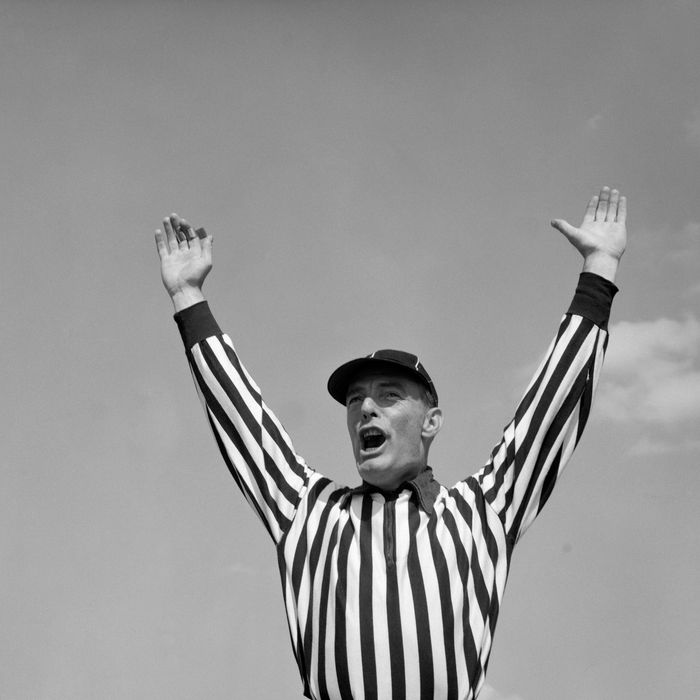 Photo: DeBrocke/ClassicStock/Corbis
Jerry Seinfeld's The Marriage Ref never really took off, but the concept really resonated, right? Sometimes the only thing saving your ego and your relationship from a total meltdown is an impartial third party to tell you you're right, yes, it was egregiously inconsiderate of your boyfriend to go back to visit his fraternity the weekend you're getting your tonsils removed. You don't want to break up or anything, you just want someone to tell you your indignation is the righteous kind.
In Bangalore, that person is your neighborhood police officer. 
According to a report in the New York Times today, India's young middle-class couples are settling down in cities far away from their homes and families, where the "the only symbol of authority that is accessible around the clock" is the police. With the stigma of mental illness deterring couples (often paired up in arranged marriages) from counseling, cops are at the front lines of the country's marital strife.
Try to read the following anecdotes while picturing the last guy who pulled you over for speeding.
One man complained that his wife spent a lot of time in the bathroom with her cellphone. Was she having an extramarital affair, he wanted to know. A woman came to the police station saying that her workaholic husband returned from the office and immediately switched on the television. She wanted the police to talk him into engaging in conversation with her.

[…]

A working woman in her early 30s recently walked into the joint commissioner of police B.N.S. Reddy's office to complain that her husband was abusive and cruel. Her husband came later and complained that she smoked, drank and partied too much. He insisted that she be a "traditional wife." A few conversations later, Mr. Reddy managed to persuade the couple to agree that they had been smoking, drinking and partying together for many months before marrying.
For that kind of sexist moralizing we say, "Book him."