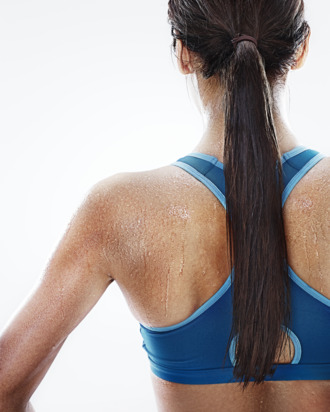 Q: I don't want to have to shampoo my hair after every workout. Can I get away with dry shampoo?
A: Speak to any hairstylist and they'll tell you that the dirtier the hair is, the better it will actually look. All those natural oils are what makes hair shine and keep the scalp healthy (in fact, if you overdo it with the washing, you could end up with an even greasier hairline when your scalp produces extra oil to compensate).  Guido Palau, editorial hair whiz and backstage mainstay, says he shampoos his hair just once a month. On other days, he reaches for the dry shampoo.
Here's how to do it: After your workout, blast hair with a blow dryer to remove all the moisture. (Do not directly apply dry shampoo to a fresh, sweaty head because it's just too much water for those little silicone molecules to handle). Then, spray dry shampoo directly into your roots and brush or massage it in. This will absorb any excess oils and give your hair a nice lift. Worried about lingering odor?  Use a scented dry shampoo (Privé makes the best smelling one, in my opinion) or if you're using an unscented variety, finish off with a spritz of perfume directly into the hair.
If you want to smooth out a ponytail elastic crease, your best bet is to rinse hair with water before the blowdry, or give dried hair a quick pass with a straightening iron. Otherwise, you can do a cute bun or DIY fancy ponytail — your hair will style better when it's dirty, anyways.