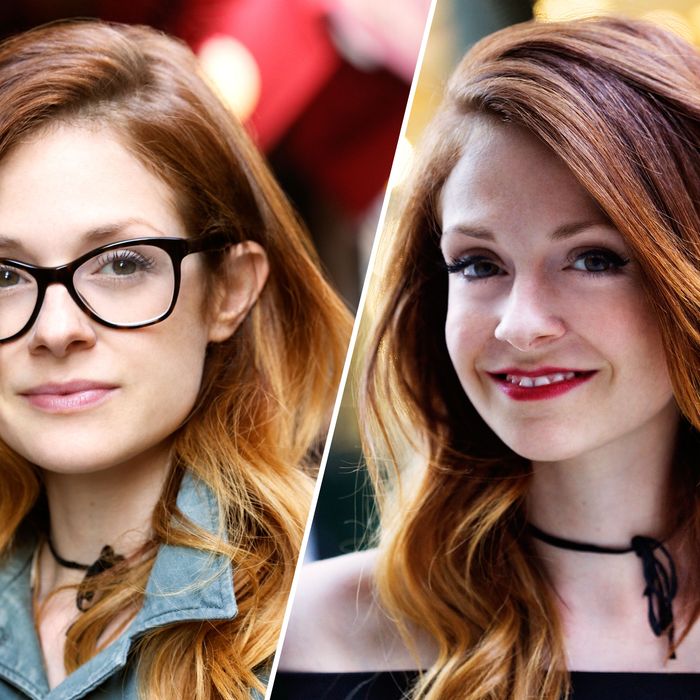 Peek at New York–based writer Stephanie LaCava's blog and you'll find Instagram snapshots of a young, underwear-only-clad Carla Bruni (because, why not?), multicolored gelato spoons (pretty!), and a stuffed elephant perched on a stack of books (fact: elephants are cute). But she's also doing writerly things like sending e-mails to her publisher (her first book debuts this December) and meeting deadlines for publications like the Paris Review and the New York Times. So when LaCava slips into Balthazar, which is just steps away from her apartment, for a morning meeting, she's usually wearing her oversize Oliver Peoples frames and not a lick of makeup (a home-office perk). "I have a friend who forbids me to meet her in sweatpants," says the red-haired 28-year-old. "I know I should make more of an effort in the morning but I have so many other things going through my head." She stays barefaced most of the day, but when she shuts down her computer before heading out to the Waverly Inn, she turns on the red lips and Brigitte Bardot eyeliner.
5:30 a.m.
I wake up, put my glasses on, and have matcha tea, blackberries, and two spoonfuls of raw cashew butter. I consider these foods my beauty secret. I drink tons of water and I'll even eat salmon for breakfast sometimes for those extra omegas.  
6:30 a.m.
I wash my face with Neutrogena's Oil-Free face wash, then use their moisturizer, and, because I am a vampire-white redhead, SPF 45 sunblock. I'm not into fancy creams but my facialist, Isabelle Bellis, recommended Joelle Ciocco's Visage-Cou Module Protection Protective Factor Anti-Ageing Energizing Lotion. I love its cherry-almond scent. On my lips, I just put on a little bit of Unpetroleum Lip Balm from the health food store. (Vaseline actually dries out my lips.) I finish my morning routine off with a few spritzes of Diptyqye L'ombre dans l'eau fragrance.
4:00 p.m.
I never used to paint my nails because my mom told me it was frivolous. But I've started getting manicures because polished nails make me feel more poised when I type. I usually use Essie's Licorice or Chanel's Vamp, but I recently started trying reds like Vodka and Caviar by OPI.
5:30 p.m.
My hair is thick and crazy, so I get it blown out once a week with Marcos Diaz at ION Studio. I don't like it super-straight — he leaves it just a bit mussed, with curls at the ends. And then I just sleep on it and hardly touch for the rest of the week. I never brush my hair. I don't even own a hairbrush.
7:00 p.m.
I like to put on makeup for dinners and events because it's part of the ritual of getting ready. I curl my lashes and put on layers of Lancome's Definicil mascara, which I've been using since high school. I've always wanted my eyes to look like Brigitte Bardot's, so I use NARS Nuits Blanches Eyeliner Stylo to draw a black line along the top of my lids.  I dot Cle De Peau concealer under my eyes and a little bit of YSL's Touche Eclat right below the arch of my brow to brighten things up. Groomed eyebrows are important, so I'll brush them upward and apply Anastasia gel to keep them in place. On my cheeks, I'll use an apricot blush (Illamasqua blush in Excite), and if I really want to feel polished, I'll smudge on some NARS Cruella lip pencil. But I never bring lipstick to reapply later on in the night. Once it's gone, it's gone.