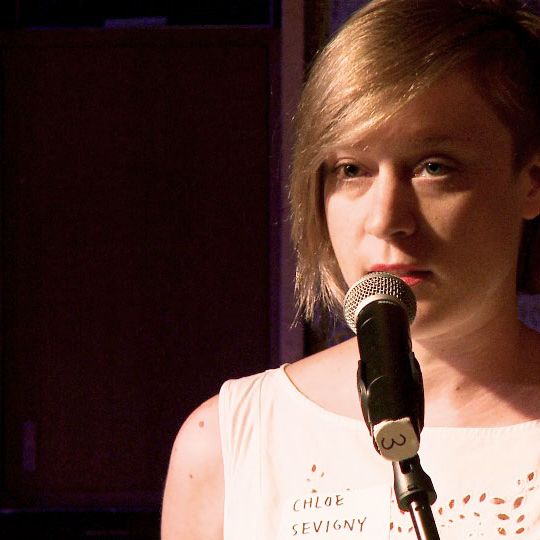 Last night bold-faced names converged in the basement of the Ace Hotel to express solidarity with jailed Russian protesters Pussy Riot, over cocktails. Twelve hours before a Moscow judge found the anti-Putin punk band's members guilty of blasphemous hooliganism, New Yorkers like Chloe Sevigny and Justin Vivian Bond toasted the girls.
"Pussy Riot understands what's going to happen," said J.D. Samson, a member of the band Le Tigre and one of the event's organizers. "They think that they will be charged guilty. They feel secure with that because they feel like they've created a revolution and I feel the same."
Today band members Nadezhda Tolokonnikova, Marina Alyokhina, and Yekaterina Samutsevich were sentenced to two years in prison. But the imminent ruling was no cause for sobriety among the couple hundred supporters who gathered, wearing C.B.G.B. tee-shirts and discussing politics, to hear readings of Pussy Riot's lyrics and trial transcript, as well as statements from some of the band's art world admirers.
Chloe Sevigny, wearing a white eyelet dress and flats, read one of the band's letters from prison before slipping out the back. Transgender performer Justin Vivian Bond relayed a message of support from Yoko Ono: "You have won for all of us, the women of the world. The power of your every word is now growing in us."
Ono was responding to band member Samutsevich's closing statement, in which she concluded that even if Pussy Riot lost the trial, it had won a bigger fight.
"The whole world now sees that the criminal case against us has been fabricated," Samutsevich said, according to n+1's translation. "The system cannot conceal the repressive nature of this trial."
Russian writer Masha Gessen shed light on the trial's absurd particulars, reading court transcripts in which witnesses complained about the neon dresses, tights and balaclavas worn during Pussy Riot's brief performance in Moscow's main Russian Orthodox cathedral.
"Their tights were different colors," one witness complained. "This was blasphemy, sacrilege and an insult to my feeling and my faith. The pain has not let up."
"I have been traumatized and unable to work for two weeks as a result," said another.
The transcripts also revealed the trial's anti-feminist undercurrent.
"Is feminist a swear word?" the prosecution asked another victim.
"It is, if it is said in church," he replied.
"For an Orthodox believer it is an insult and an obscenity," agreed another.
The crowd groaned audibly when Gessen reported that the judge had not allowed witnesses to be asked the question "Do you know what the word feminist means?"
Poet Eileen Myles, another of the evening's reader, told The Cut that this aspect of Pussy Riot's anti-Putin mission had been lost in many news reports because "people are still afraid, still uncomfortable with feminism."
"Of course it was women," she said of the protest, "it could only have been women."
And as for the solidarity worldwide, chalk it up to good old-fashioned sisterhood.
"I'm doing what I think they would do to me," Samson said.