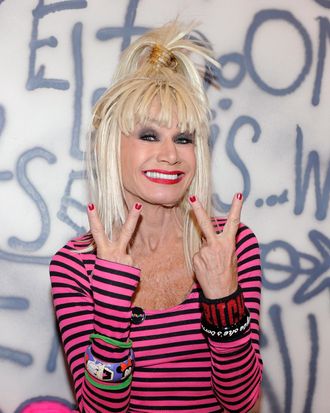 Always rock n' roll.
Photo: Ethan Miller/Getty Images
Johnson, along with some help from the Levy Group's design director Suzi Chin, plans to present a series of spring 2013 dresses at a retrospective fashion show of her looks in September. According to a press release, the new "collection is a whimsical line of great fitting, fun silhouettes," described as "printed," "solid," "sexy," and "flowing," and will be priced from $99 to $249. Betsey, whose label filed for bankruptcy in April, said, "I'm back!!! Doing my dress thing. Pretty and punk, sweet and sexy, always rock n' roll." And Donald Levy, president of the Levy Group remarked, "The Levy Group has had an outstanding relationship with Betsey Johnson for over 5 years now, working together on her outerwear collection," adding he's pleased to work with her on the dresses. Cartwheels on the runway, Don?