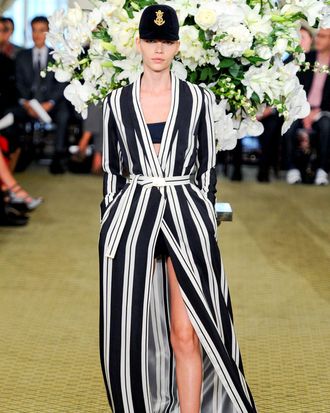 We didn't know it then, but this was Bill Blass's final womenswear show.
Photo: Imaxtree
Although Bill Blass's spring 2013 womenswear collection was "90 percent" finished and their usual stylist, Japanese Vogue's George Cortina, was rumored to be paid in full to work with the label during New York Fashion Week in September,* the brand abruptly decided to cancel the show entirely. (Other reasons to find this move odd, to say the least: They'd already secured a location, a PR agency, and a production agency for the show and purchased about $250,000 worth of Italian fabrics for the collection, according to WWD.) The label subsequently fired its entire womenswear team, including designer Jeffrey Monteiro.
WWD reports:
Scott Patti, president of the Bill Blass Group, first told Monteiro that next month's show had been canceled and that the women's collection would not be going forward. Patti later handed out pink slips one by one and told employees they were "free to go," according to one former Blass employee. There was no explanation or mention of severance packages, the former staffer said.
So, here's an awkward good-bye to Bill Blass's womenswear collection. Cortina's now free to use his extra time posing for Scott Schuman.
* WWD initially reported that George Cortina had been paid in full to style the Bill Blass show in September, but they've since removed that sentence from their article.