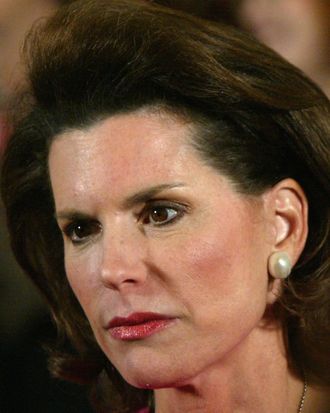 Photo: Alex Wong/Getty Images
Nancy's gotta go. That was the only conceivable solution anyone could come up with in the weeks following the Planned Parenthood mess, and just about everyone at Komen — from the board members, some of whom had been friends with Brinker for 30 years, to the senior management — agreed. Of course, mess was a polite way to describe what transpired in late January, when women's health organization Susan G. Komen for the Cure yanked funding from its erstwhile five-year partner. Though Komen quickly reversed course, restoring Planned Parenthood's $680,000 in grants, the fallout reverberated long after. Donations to Komen were off by as much as 20 percent — a sizable amount for an organization that last reported $420 million in annual contributions. Morale in Komen's Dallas and Washington, D.C. offices was in the tank amid rumors of layoffs. There were even rumblings among some local affiliates — the backbone of Komen's vast grassroots network — of secession. The only solution that would satisfy Komen's still-seething affiliates and supporters was for Nancy Brinker, Komen's founder and CEO, the woman whose promise to her dying sister 30 years ago has provided the group's moral imperative, to claim responsibility and step down.
But Brinker wasn't having it. According to a high-level insider, she never seriously entertained the idea of leaving the organization, though the Komen board told Liz Thompson, Komen's president, that such a plan was in the works when Thompson tendered her first resignation in April. The board pleaded with Thompson to stay on, telling her that she'd be instrumental in easing Brinker's exit. But in mid-July, she'd begun hearing rumors that Brinker was simply planning to toggle positions, trading her CEO title for chairmanship of Komen Board Executive Committee, the group responsible for hiring her successor. Thompson tendered her resignation once again — and this time, no cajoling could make her stay. Board members Linda Law, a Silicon Valley real-estate developer, and Brenda Lauderback, a retail veteran, followed suit. But the remaining members of Komen's board, headed up by 83-year-old Robert Taylor, a Dallas attorney and longtime friend of Brinker's, held off on announcing the latest shake-up until it had fine-tuned the details of Brinker's new role. (Even now, those details aren't clear. A Komen spokesperson could not answer who was on the executive committee and whether Brinker's chairmanship of it meant she'd have a seat on Komen's board of directors.)  
Such were the circumstances surrounding last week's announcement that Nancy Brinker was resigning as CEO of Susan G. Komen for the Cure, the organization she founded three decades ago and which, under her fierce stewardship, has grown to become one of the most powerful women's health organizations in the world. But in just a few years, much of that goodwill has been charred by a series of devastating missteps for which, many say, only Brinker can be held accountable. Though she'd hoped the management shuffle would mollify her critics, it has instead stoked claims that she is wildly out of touch with her constituency. "She's trying to put it behind her, but what she doesn't get is that you can't just decide a crisis is over because you want it over," says a Komen official. "Every big organization that's had a major, major scandal like this — the Red Cross, United Way — saw its senior leadership change. That's just what happens. But Nancy will be there until she takes her last breath."
Komen's astonishing rise in the last 30 years is also the story of the transformation of women's health in national politics. For many years, Susan G. Komen for the Cure flourished by charting a bipartisan course through the culture wars over women's bodies. Politics had no place inside Komen's Dallas headquarters — after all, breast cancer knew no party affiliation. But in recent years, and with Nancy Brinker's consent, Komen yielded to the increasingly polarizing political forces fixated on pulling it rightward, culminating in the disastrous Planned Parenthood decision earlier this year — and the ferocious backlash from the left.
Nobody expected great things when Nancy Brinker, a polo-playing Dallas socialite, founded Komen in 1982. It'd been two years since her older sister, Susan Goodman Komen, a 36-year-old homecoming queen turned mother of two, had lost a harrowing three-year battle with breast cancer. In her memoir Promise Me, Brinker recounts the details of the last time she saw her sister, a month or so before her death. She and Suzy were sitting in the backseat of their father's car en route to the airport. Both seemed to know the end was near. In a wheezy whisper, Suzy pleaded with Nanny: "It has to be talked about. Breast cancer — we have to talk about it. Promise me, Nanny. Promise me you'll make it change."
At the time, Dallas was flush with well-meaning and deep-pocketed ladies who lunched. But Brinker, striking and statuesque, stood out for her elegant good looks and exceptional marketing savvy. She and her then-husband Norman Brinker, a successful restaurant executive who'd invented the salad bar, leveraged their powerful Texas connections with the likes of Kay Bailey Hutchison, oil heiress Margaret Hunt Hill, and the Bush family to get Komen off the ground. Komen luncheons became events one circled on the calendar, attended by First Ladies, with lobsters flown in from Maine. "Nancy had a large circle of friends, and it became the in thing to go to Komen events," recalls Linda Cadigan, an early Komen staffer. (Brinker, through her spokesperson, declined to be interviewed for this article.)
Until then, breast cancer had been a disease rarely discussed, and then, only in whispers. Even newspapers avoided printing the phrase for fear of offending readers. But Brinker made it fashionable for women to mobilize and march in memory of their afflicted mothers, sisters, and friends; she pioneered so-called "cause marketing," partnering with major brands like Ford and Yoplait on massive national awareness campaigns; and though the pink ribbon was conceived by Esteé Lauder, Brinker appropriated it as Komen's emblem and quickly made both synonymous with breast cancer. For women of a certain generation, Brinker is, in large measure, responsible for making breast cancer a national health issue and giving voice to the suffering and shame shouldered silently by thousands of women and their families. By the end of its first year, Komen had raised enough money to issue $30,000 in grants for breast cancer research, specifically to Houston's MD Anderson and Baylor University Medical Center in Dallas. By 2010, Komen was generating $450 million, with $300 million or so underwriting research.
So, how did the organization shift? Those who've worked closely with Brinker say her ambitions changed in 2002, during her stint as ambassador to Hungary, and then, under the George W. Bush presidency, chief of protocol, a cushy Department of State post that had her planning visits of foreign officials. Brinker landed the gig thanks in large part to her stalwart support of Bush — she was a "pioneer" who raised more than $100,000 for the first campaign — and her long-standing friendship with Laura. (The two speak regularly, even today.) "It was a very heady experience for her," says one former aide. "That lifestyle makes you believe that you're on a very different plane than other people."
Brinker enjoyed perks like private planes and access to Washington's top power players. To avoid conflicts of interest, she and Komen's board of directors handed over the reigns to Hala Moddelmog, a veteran restaurant franchise executive. But, according to several people who worked for Komen at the time, Brinker remained actively involved while working for the State Department, weighing in on hiring and strategy decisions, even leveraging her State Department contacts to broker meetings for Komen operatives with foreign emissaries. "I once called [Komen's] lawyer and asked, 'Am I going to get in trouble for being involved in these things?' and they just kind of shrugged their shoulders," recalled one former employee.
No one at Komen was surprised when, after Bush left office, Brinker — or "Ambassador Brinker," as she prefers to be called — returned to Komen. Moddelmog resigned a year later. But, by then, Komen had outgrown the sometimes grubby, nickel-and-diming business of running a nonprofit, even one as prosperous as Komen. According to sources familiar with her travel arrangements, once Brinker returned, she insisted on five-star accommodations and cajoled well-heeled patrons into donating points from their accounts with NetJets, a private jet service, so she wouldn't have to fly commercial. One former aide says Brinker's boyfriend, Chicago investor Howard Bernick, occasionally footed the bill for her high-end Komen-related travel.
Brinker, herself a breast cancer survivor, is said to have bristled at sharing the spotlight with other cancer activists. After she was named one of Time magazine's Most Influential People in 2008, she left the reception early, according to a source familiar with the event, ticked off that she'd been seated in the balcony while Lance Armstrong enjoyed a more visible spot on the main stage. And when the producers of Stand Up to Cancer, a major telethon that aired on all three of the major TV networks that same year, approached Brinker to participate, she allegedly blew them off when she learned she wouldn't be included in the star-studded opening segment. "If she wasn't the center of attention, she didn't want any part of it. No secondary roles," recalls a former marketing executive.
In the last few years, especially, a slew of ex-Komen staffers say she has become obsessed with burnishing her profile with TV appearances and awards. (I spoke with several members of Komen's organization for this story, all of whom insisted on anonymity for legal reasons — current and outgoing employees are required to sign stiff confidentiality agreements.) In addition to Komen's internal communications team and the three PR firms it keeps on retainer, Komen is reportedly paying Brian Hook, a former Bush appointee who ran Tim Pawlenty's failed presidential bid, $250,000 plus expenses to help. According to friends, what she most covets is consideration for a Nobel Peace Prize. "It's what she wants more than anything else," says one.
Those close to her say she also harbors political ambitions and has hinted at interest in a Florida Senate seat, perhaps even a Cabinet appointment as secretary of Health and Human Services should Mitt Romney win the presidency. That helps explain why Brinker, a lifelong moderate Republican, has dutifully trailed the GOP as it shifts to the right, nudging Komen along with her. "These days, if you're going to buddy up to guys like [Florida's Republican Senator] Marco Rubio and Mitt Romney, you have to prove that you're pure on all sorts of issues, and Planned Parenthood has become one of those crazy litmus tests for party purity," explains one former Komen official.
Brinker has strenuously denied that politics played a role in the Planned Parenthood decision. A decade ago, she might have deflected such criticism. After all, for much of its history, Brinker ran Komen as unequivocally bipartisan, deftly defusing persistent needling from religious conservatives over Komen's long-standing relationship with Planned Parenthood. (As recently as 2008, for example, Brinker brokered a detente with the Arkansas Archdiocese, which had planned to boycott Komen.) "Nancy was a Republican absolutely, but she was never a Tea Party extremist or anything," says a former colleague. "I remember one passing conversation about Planned Parenthood I had with her. Nancy rolled her eyes, like, 'Oh my god, those right-wing whacks are going to kill us'."
But in the last few years, the more conservative voices within Komen have held increasingly greater sway with Brinker, and usually at the expense of the group's longtime moderates. This has led to inevitable frictions. In the last five years, more than 30 high-level employees have come and gone, including three presidents, two chief financial officers, two general counsels, two chief marketing officers, and three public-policy executives. Another problem: Komen's board of directors, which has the power to reign Brinker in, comprises many of her old Dallas friends, including lawyer Robert Taylor, the chairman of the board, and socialites Linda Custard and Connie O'Neill. "If Komen were a public company, the Department of Justice would be all over them," says a former executive. "That's a good sign that something's wrong."
According to insiders, her closest confidante on Komen matters is a well-connected GOP lobbyist from Georgia named Rae Evans, another Bush devotee (and former tennis partner of Marilyn Quayle) who, years earlier, helped launch Komen's first-ever national Race for the Cure. Evans was instrumental in controversial Komen hires with decidedly right-wing credentials: She introduced Brinker to Julie Teer, a former high-level fund-raiser for Mitt Romney who, until recently, served as Komen's vice-president of development. And it was Evans who connected Brinker with her protégé Karen Handel, a onetime Georgia gubernatorial candidate who'd gone on the record during the campaign as staunchly pro-life and opposed to Planned Parenthood. Initially, Brinker brought Handel on as a contractor to field public-policy issues, which instantly ruffled feathers internally given Handel's professed political leanings. After all, it was the policy division that would make recommendations about Komen grants, including the ones to Planned Parenthood.
"There was a lot of feedback internally that Karen was not a good fit, but the decision was made to bring her on anyway," says a former top staffer who says Handel pushed Brinker to sever ties with Planned Parenthood. When the Associated Press broke the news of Komen's plan to pull Planned Parenthood grants in January, Handel made for a convenient scapegoat. (She resigned a week later.) But lost in the media blitzkrieg has been the basic truth that nothing happens at Komen without Nancy Brinker's say-so.
By all accounts, Brinker was stunned by both the speed and fervor of the protests against the Planned Parenthood decision. She was in Palm Beach for nearly three days before finally flying in to Washington, D.C. to respond to the media frenzy. A master of grassroots organizing, she is, many at Komen say, out of her depth when it comes to social media, as evidenced by the way she promoted her mea culpa on MSNBC, the only major interview she's given on the Planned Parenthood debacle. Brinker opted for a sit-down with Andrea Mitchell, a longtime friend and Komen supporter who she'd assumed would feed her softball questions. But Mitchell grilled Brinker, challenging her claims that the decision came as a result of a congressional investigation into Planned Parenthood. The appearance was widely considered a disaster, yet Komen trumpeted the interview on its Facebook page, prompting a flurry of scorching comments.
"I think Nancy expected the right would rise up and come to Komen's defense after what happened. But they were never Komen supporters," adds one high-level Komen official. "The people writing the checks and doing the races — these were always women on the left. And so she was sort of just twisting in the wind after that." 
As the fervor grew, Brinker sought guidance from former Bush White House Press Secretary Ari Fleischer, who told her to sit tight, that the controversy would blow over. Komen hired D.C. pollster Mark Penn to run focus groups on the lasting damage to its brand, and Brian Hook, who'd himself been penning some of Komen's responses to reporters, began interviewing crisis PR teams before settling on the Herald Group, an ultra-discreet band of Beltway fixers that counts several ex-Bush appointees among its ranks. At their guidance, Brinker has shunned interviews and has generally kept a low profile since.
Meanwhile, Brinker and her advisers have quietly begun the search for a new CEO, someone whose bona fides will help restore credibility to the hobbled organization. Among those approached: Marsha "Marty" Johnson Evans, a retired Navy admiral, who once ran the Red Cross. Evans is believed to have demanded carte blanche to fix Komen as she saw fit — without interference from Brinker. When no such guarantees could be made, she pulled out of contention.
Finding a cure for breast cancer, Brinker has always said, is a personal quest, her life's mission. In March, at a leadership conference for Komen affiliates, she addressed the crowd: "I know that in the past five weeks, I and the leadership have fallen short of your expectations. The recent controversy over our community grants and the way it was handled hurt a lot of people …We let you down. And for that I am profoundly sorry …What I can tell is that we — the leadership — recognize those missteps, and talk about it every minute of every day. We're listening, we're learning, and we're taking action. We're going to get through this. We're going to get through this. And we're going to be more powerful."
Lea Goldman is features director of Marie Claire.