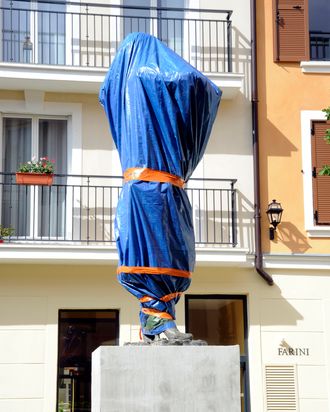 Nothing to see here.
Photo: BERTRAND GUAY/AFP/Getty Images
The likeness, located east of Paris in Nogent-sur-Marne, was originally meant to fête her ascent from supermodel to first lady, and portrays her "as a 'plumassiere,' a woman worker from one of Nogent's former feather factories," the Telegraph reports. Carla apparently posed for the €90,000 ($110,000) statue by sculptor Elisabeth Cibot; however, even Carla's staffers were unsure about the whole thing, with a spokesperson explaining, "[She] isn't Joan of Arc or General de Gaulle. [She] is a former model." And local leaders agree that she isn't really the best person to represent workers. Speaking about the statue, one unnamed official said, "It has not only been described as hideous, but it honours a very rich woman whose husband is facing corruption allegations," adding, "It's well camouflaged at the moment, and not many people have noticed it, but the official unveiling is going to be difficult." Real Carla won't be there on September 21 to watch them tear off the blue tarp (in fact, she wasn't invited), but we can't wait to see what Plumassiere Carla is wearing! Definitely Dior.