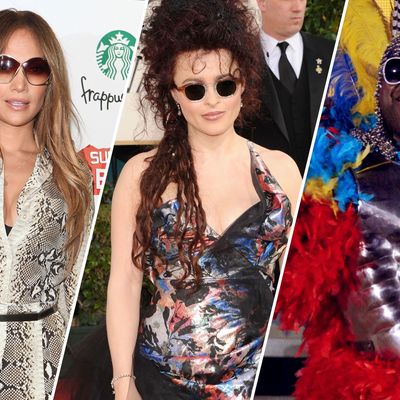 Photo: Tim Whitby/Getty Images, Jason Merritt/Getty Images, Kevin Winter/Getty Images
At their best, celebrity fashion foibles are a creatively satisfying renewable resource for red carpet critics like ourselves. But at their grimmest — especially after you've spent as many years staring at them on the Internet as we have — the trendy, attention-seeking repetition can get stultifying.  After all, how many more times can we beg Lady Gaga to wear pants? But occasionally a funny thing happens on the way to the fashion-victim coma: a Stockholm Syndrome of sorts, where the repeat offenders' particular brand of crazy becomes so indelibly amusing, we can't — and wouldn't want — to imagine them any other way. Join us as we celebrate ten stars who, for better or worse, have us in the thrall of their sartorial nuttery.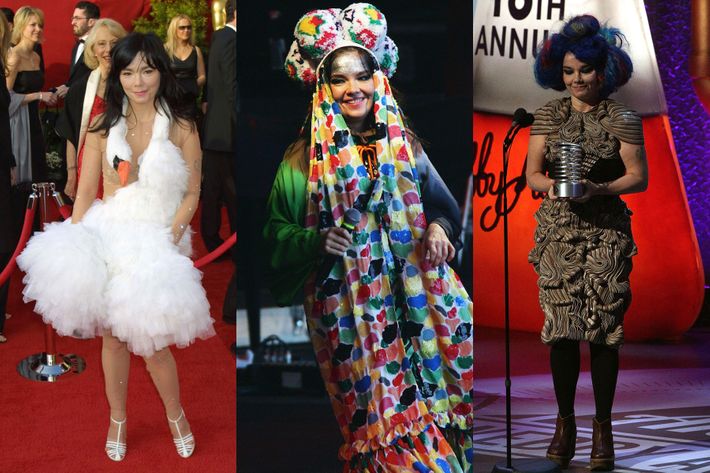 Bjork
As much as we puzzled over it at the time, it would be sacrilegious to wish change on the woman whose swan dress at the 2001 Oscars ushered in the modern epoch of WTF Is She Wearing?! Now we understand that WTF is Bjork's essential essence. (And seriously, Lady Gaga, that's how you pull off egg-related couture.) Few things in this life are certain, but one of them must and shall always be Bjork looking about fifteen minutes away from being beamed into the Mothership. Her changing to a diet of skinny jeans and tanks would be as depressing as when Annie Potts becomes a blazer-clad yuppie at the end of Pretty In Pink: stifling and just plain wrong.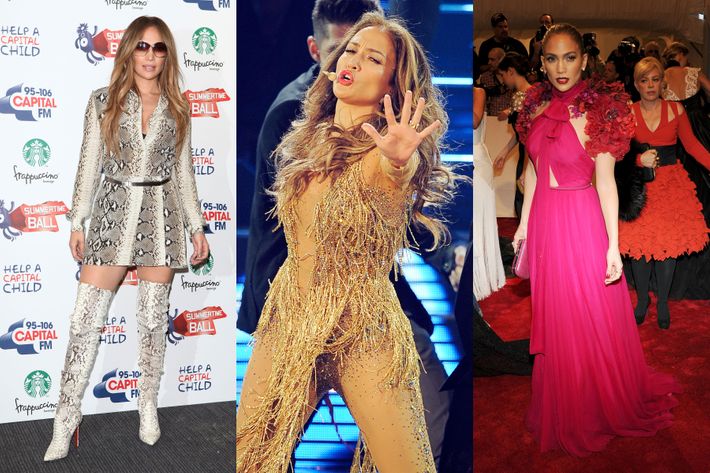 Jennifer Lopez
The magic of Jennifer Lopez is that no matter what she's wearing — a spangled hirsuite leotard; a blooming shoulder wreath that would make the Kentucky Derby winner feel under-adorned — she fully commits. Further, she gives you that tremendous J.Lo stink-eye that suggests you, too, should genuflect to her majesty, or else she will smite you with her mind. The giggles this inspires might not count as bending to her will, exactly, but the net effect is the same: Never change, Jenny. P.S. Can you reconsider leaving Idol? A fashion duel between you and Mariah is exactly what America needs.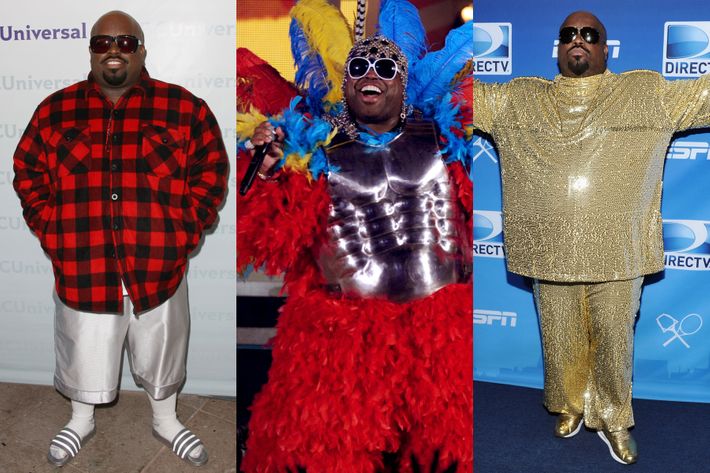 Cee Lo Green
There are no in-betweens for Cee Lo. He's either sporting shower shoes on the red carpet, like a frat dude-bro who decided to pop in between lax practice and happy hour, or he's dressed like a Technicolor Thanksgiving turkey. Cee Lo goes big, or he goes home — and sometimes, he decides to go home. Having no middle ground is a bold choice, but then again, if he actually went home, we would miss the whiplash. And the sequins.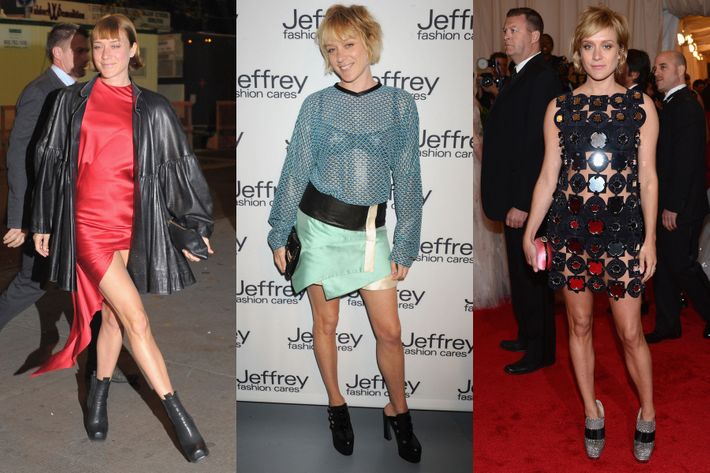 Chloe Sevigny
Sevigny is a strange case. Admittedly, her often bafflingly unflattering style used to drive us mental. But her awesomeness on Big Love unlocked the door to our psyches: Suddenly she wasn't just a stern face attached to a series of perplexing outfits, but a subversive master of tragicomedy, whose mischievous gleam suggested we couldn't possibly take half this stuff seriously because she no longer seemed to be. In fact, each hilariously odd ensemble now comes off like she's actively messing with everyone — surely that mirrored Met Ball dress is just a social experiment to see how many people would chat her up as an excuse to check their makeup? — via advanced sartorial sarcasm. And if not, please don't tell us. We like it better our way.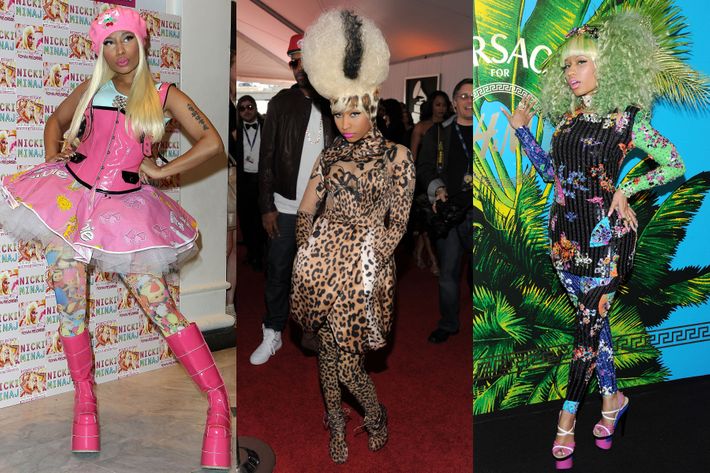 Nicki Minaj
Like Gaga, Minaj almost always looks totally outlandish. Unlike Gaga, however, Nicki's outlandishness almost always feels grounded in a youthful giddiness, rather than a need to express her deep special snowflake profundity to anyone who will look at her sideways. To ask her to tone it down would be such a buzzkill.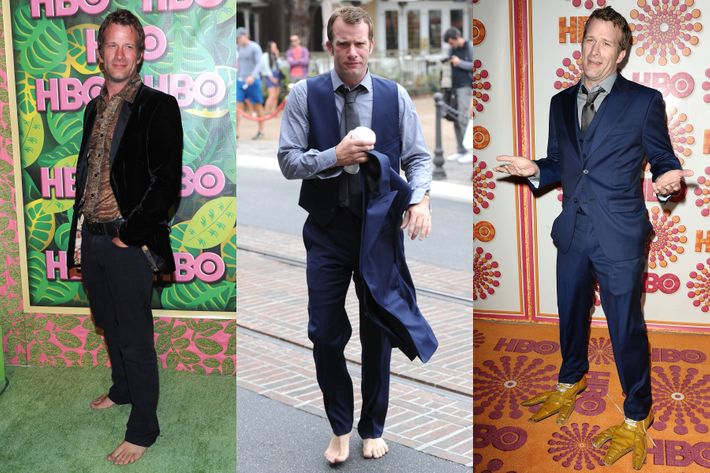 Thomas Jane
Recently, noted goofball and Fashion Week kamikaze Thomas Jane remarked that he hopes to stop wearing shoes entirely, as they are — his word — "prison" for his feet. No surprise, given that he's already stomped barefoot everywhere from the red carpet to The Grove outdoor mall (ew) to, most recently, ComicCon. While this is unsanitary and probably also malodorous, we have grown to find his passionate distaste for pedi-prison profoundly entertaining — especially when he inexplicably saunters in the other direction entirely by wearing shoes made to look like massive bird feet. Perhaps his arches are secretly emitting mind-control pheromones, but how can we ever root for him to do anything normal below the ankles ever again?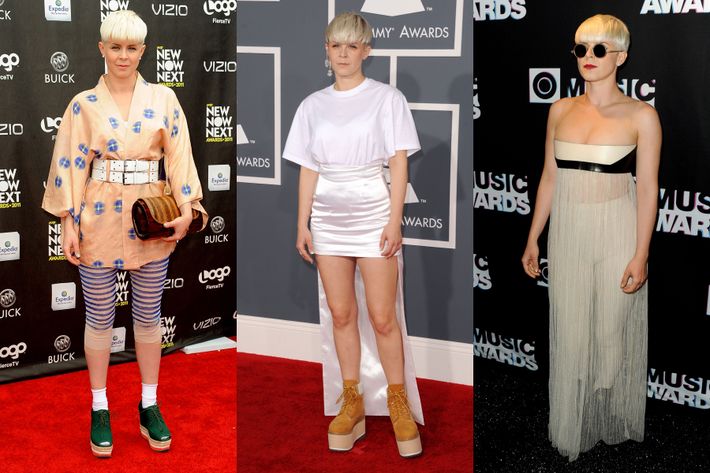 Robyn
Robyn feels like the answer to the question, "What would happen if Bjork had a baby with IKEA?" And that is not a response that we, as a society, should ever try to silence.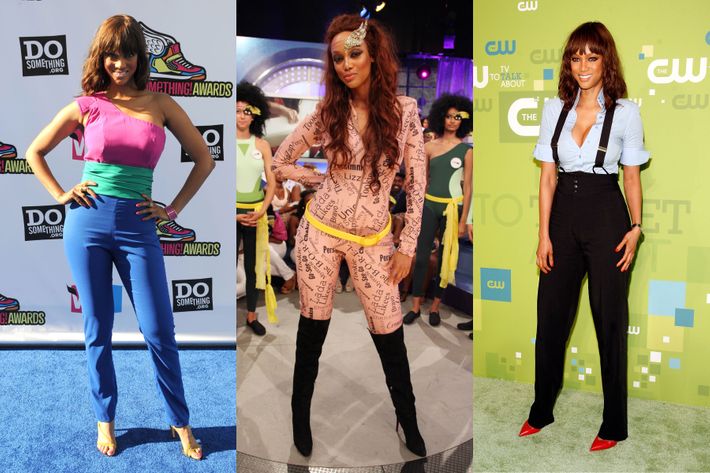 Tyra Banks
We have learned so much from Tyra over the years — the importance of elongating your neck in a photo, for example, and the value of forcing made-up, portmanteau verbs like "smize" on the nation. But what we've really come to embrace is Tyra's devotion to theme. The season of ANTM where she wore a jumpsuit at every single judging? She also wore a jumpsuit everywhere else. When she was promoting her YA novel Modelland, she wore its cover … on her face. During her stint at Harvard Business School, she constantly dressed in a Tyrafied version of men's business wear. Tyra is a lot of things, "smart" and "wacky" chief among them (Wacmart? Smacky?) If she weren't using her personal wardrobe as a professional billboard, we wouldn't know what to do with ourselves.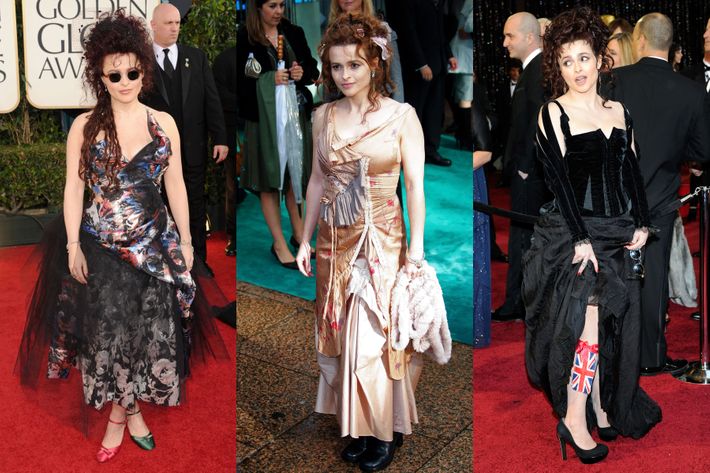 Helena Bonham Carter
HBC and husband/frequent collaborator Tim Burton are so effortlessly matched in their kookiness, on-screen and off, that it's hard to remember her in any other incarnation. And though she was hardly a style icon pre-Burton (nor cared to be, we assume), the level of Fancy Bag Lady couture she's achieved since their union is so extreme, yet so perfectly suited to their combined wackadoodle aura, that telling her to spit-shine it Hollywood-style would be criminal on a Bjorkian level. Nothing livens up the red carpet like knowing that, amid a parade of sparkly nude tones and strapless skintight stain, HBC cheerfully will stroll out in mismatched shoes, looking like a bawdy Victorian brothel and bar owner who cleans the glasses with her own spit and did her hair by twirling a horseshoe in it.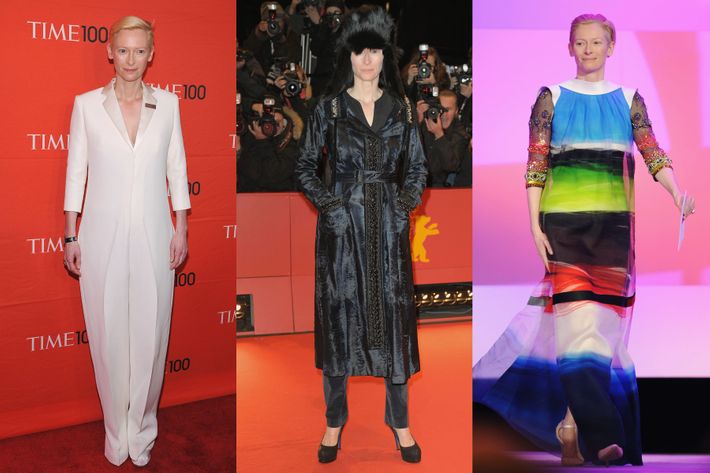 Tilda Swinton
This is a case of not realizing what we had until it was almost gone. Tilda Swinton was once a titan of titillatingly weird outfits, often sack-like or strangely draped, but always … flavorful. She even does winter with madcap panache, as if she gave Andre Leon Talley her credit card. But SWINTON has been more sedate of late, cleaving to whites and more straightforward lines. So as much as her recent cocoon-like white jumpsuit was a return to hilarious bizarro form, we miss the olden days of our hands not knowing whether to scratch our heads or applaud. Come back to us, SWINTON. Personal growth is so overrated.