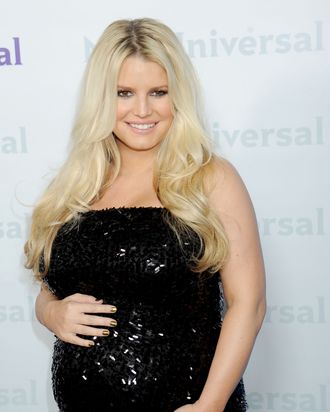 Photo: Gregg DeGuire/FilmMagic
Hollywood Reporter editorial director Janice Min has a piece in the New York Times this weekend bemoaning the rise of the "momshell": the woman whose body "boomerangs back from birth possibly even better than before." The purported trend hits close to home: Min is currently carrying a little weight from the birth of her daughter four months ago, she says, and sustaining some rude looks for it.
Min fingers People magazine as the source of momshell anxiety, for crowning Beyoncé its most beautiful woman of the year with the cover line "Back After Baby," but admits that, as the former editor of the baby bump-obsessed Us Weekly, she is one of the architects of her own "physical netherworld."
"I delivered what the young female audience wanted: cute moms and babies," she reminisced. "Weight loss was female entertainment."
The self-awareness pretty much stops there.
According to Min, only since she left Us for THR has the "ubiquitous imaging of 'sexy' moms" like Gwyneth Paltrow and Gisele Bundchen "rewired society's expectations." There are now signs, she writes, "that this 1 percent of lucky mothers with the time, money and good genes to be skinny in their skinny jeans have informed our judgment of the other 99 in a sort of trickle-down mean-girls effect."
Don't mistake this observation for Min's mea culpa. It is not an acknowledgment that the corollary of "Stars, they're just like us" is the current, unfortunate notion that we are all stars to our 700 Facebook friends. By "the 99" percent, she means… Bryce Dallas Howard, daughter of multimillionaire actor and producer Ron Howard. Howard's post-baby weight gain was treated unconscionably by TMZ, but the actress quickly regained her dignity with a personal essay in, where else, GOOP, ur-momshell Gwyneth Paltrow's personal newsletter.
Other members of Min's poor, victimized 99 percent? Jessica Simpson, "whose 70-pound gain…is in the eye of a schadenfreude storm." "Bollywood beauty Aishwarya Rai," who was in a YouTube video soundtracked by elephant noises." Hilary Duff, whose Twitter account was "brimming with nasty remarks after giving birth in the spring."
No one deserves to be abused for their physical appearance, but we should be least concerned about these women, who are blessed with the time, money, and good genes to be healthy and attractive. No one would even notice their baby weight if magazines like Us weren't running pictures of them, waddling and caftan-clad, just outside the bounds of articles like "How Jennifer Garner, Gwen Stefani, Pink and Other Celeb Moms Stay Fit," published on Us's site today.