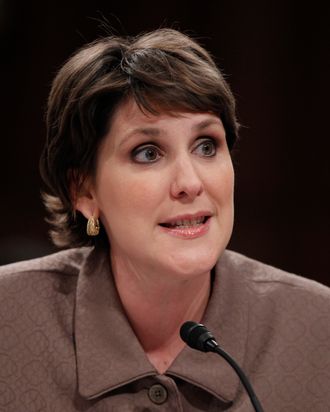 Today Mother Jones takes a closer look at the anti-abortion strategies of Charmaine Yoest, the president of Americans United for Life. The organization whose research prompted Komen to defund Planned Parenthood now plans to take down Roe v. Wade, one state at a time.
MoJo's Kate Sheppard writes:
Yoest says her focus is on a "post-Roe nation" in which states will again be the sole arbiters of when, where, and whether women can get abortions. "The real question is what do the states do," she says. "And so in a sense, we're leapfrogging over [Roe]." She believes AUL's growing body of state laws will set precedents with the potential to eventually change federal abortion law." 
By providing legislators with one-size-fits-all-states legislation and woman-centric rhetoric, AUL had a hand in 24 of the 92 anti-abortion restrictions passed throughout the country last year, by Mother Jones's count. No gory fetus photos necessary.
Outside Yoest's fourth-floor corner office hangs a large print that could pass for a Mondrian in black and white. She informs me that it depicts a human DNA sequence. "We wanted to do something that was nonbaby," she says. […] The only obvious nod to the unborn is a Dr. Seuss quote on the wall above Yoest's desk: "A person's a person, no matter how small."
While he was still alive, Dr. Seuss, a.k.a. Theodor Geisel, threatened to sue a pro-life group for using that line, from Horton Hears a Who! on its stationery. His widow, Audrey Geisel, doesn't care for its political use either.