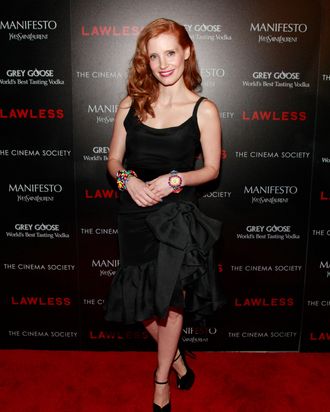 Jessica Chastain.
Photo: Charles Eshelman/FilmMagic
"Right now I am wearing a big bow and fluorescent cuffs," Jessica Chastain pointed out, somewhat unnecessarily, on the red carpet at last night's New York premiere of Lawless at the Paley Center for Media. Describing her red-carpet style as "playful" and "dramatic," she quickly added that this doesn't translate to her normal wardrobe. "In my everyday style, it's more simple. I don't necessarily want to draw a lot of attention to myself. Lots of black blazers and scarves," she said. So who's responsible for her metamorphosis? Hollywood stylist Elizabeth Stewart, according to Chastain. 
I've worked with her for two years. My very first meeting with her, I really had a connection because she sees fashion as more than just using a dress to look pretty. I never wear something to bring myself attention. For me, when I'm wearing a dress, it's about the dress and about the story that the designer was creating. I also love the idea that she dresses people for who they are as individuals. She doesn't dress people like herself, or like each other. She also dresses Cate Blanchett, Freida Pinto, and Amanda Seyfried, and we all have very different styles. 
The black, bow-adorned dress she wore last night was vintage Yves Saint Laurent (soon to become Saint Laurent Paris) — a sensible choice, as the label sponsored the event and she's the face of their new fragrance, Manifesto.