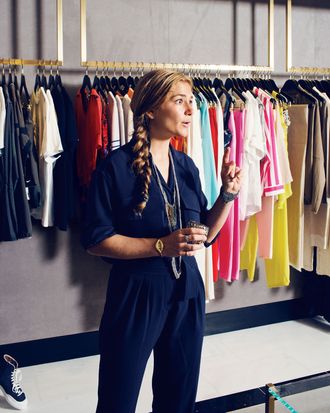 Photo: Christopher Anderson/Magnum/New York Magazine
Two years ago, during a decadent lunch, a father and daughter were having an ­existential crisis. There was salmon ­tartare and red wine and the free-fall feeling that they didn't know what to do with the rest of their lives. Fred Distenfeld had ­recently retired from the business started in 1953 by his own father, Luxury ­Accessories International, a major importer of exotic skins. Claire Distenfeld's professional ventures had consisted of a series of semi-glamorous, semi-volunteer positions: an internship in the ­curatorial department of the New Museum her senior year at NYU ("I knew it wasn't going to take me anywhere"); an internship with heavyweight eighties photographer Sante D'Orazio, whom she met while nursing a double Scotch and a broken heart at Rose Bar ("He started telling me he was really good friends with Andy Warhol and Keith Haring. I didn't believe him"); and a mostly unpaid job at an upstart gallery in a sixth-floor walk-up in Chinatown. When that job lost its luster, she went through a spell when she thought she'd become an art adviser. She printed a thousand beautiful cards: "Claire Distenfeld, Art Adviser." And then, she says, "I didn't know what to do."
Deep in the throes of their collective crises—one midlife, one quarter-life—­father and daughter began regularly meeting for lunch. "He'd be like, 'What am I going to do?' And I'd be like, 'What am I going to do?' " They'd sit there like that, stumped. Then, one day at Le Bilboquet, Claire had an idea. "Why don't we make a little, tiny store of gems and things from all over the world?" The more they talked, the more the idea evolved, until eventually they realized they wanted to create an ­establishment that would capture the thrill of discovery that Claire had felt shopping at the famously curated European boutiques—Colette in Paris, 10 ­Corso Como in Milan, Browns in London—places that worked like luxury department stores, but on a more intimate scale. And without Linda Dresner or Charivari, both of which had closed some years prior in New York, a niche presented itself.
Claire went home from lunch that day brimming with hope but little else: "I had no experience, no connections." The first thing she did was sit down and write out a list of dream designers her then-­imaginary store would carry: Christopher Kane, Jonathan Saunders, Versus, Preen, and Lanvin. Then she set about e-mailing them to announce her intention to open "a boutique retail store on the Upper East Side of New York" that would "transform, enhance, and inspire the creativity and individuality within the customer."
"To call up Alexander McQueen's company and be like, 'Hey, I'm 24, I'm making this beautiful store that doesn't exist, I don't have anything—don't ask me where it is—and I want you'? It was crazy." The initial response, according to Claire, was that there was no response: Designers didn't want to dilute their brands by going with an unknown. "They pretty much said, 'No effing way.' "
Two years later, Fivestory opened for business in not five but two and a half stories of a historic brownstone just a few ­stilettoed steps from Dolce & Gabbana, ­Gucci, Chloé, Prada, and Hervé Leger. The space is all black-and-white marble and velvet surfaces and diffuse light. The clothes are lined up like masterpieces on a gallery wall, sometimes by brand, sometimes by complementary color. One day I watched a pretty salesgirl diligently switch out hangers for ones that were imperceptibly thinner. There's a downstairs with casual and menswear, and children's on the way for fall; an upstairs with the truly high-end items, including fine and costume jewelry; and a mezzanine with a tinkling fountain and a display shelf of shoes that everyone refers to as the "shoe garden" ("Yeah, it doesn't really roll off the tongue," Claire says, laughing).
The store's closest New York equivalent may be Opening Ceremony, with its $1,000 offerings by designers most laypeople have never heard of. But if Opening Ceremony serves a downtown clientele, Fivestory embraces a very New York boom-era sheen and opulence.
Unsurprisingly, then, Claire is a fan of the eighties. She's not afraid of bold prints or pantsuits. Her own style often takes on a classic theme (white button-down; little black dress) and roughs it up with a peeking black bra or a thick leather belt, all offset by chunky jewelry. In her sartorial philosophy, she's a romantic, believing that every beautiful object tells at least five stories: the story of how it came to be, the story of the person who created it, the story it evokes when you look at it, the story you tell yourself of where you'll wear it, and the story of how you will feel doing so. One day when eyeing an ornate Erickson Beamon cuff online, she ­enthusiastically asked the room, "Doesn't this look like something you'd find in a treasure chest at the bottom of the ocean?"
Early one morning, Claire and her 27-year-old assistant buyer, Alex, have an appointment to see the latest collection by Viktor and Rolf. They enter an airy loft, are greeted by a woman with an asymmetrical haircut who introduces herself as Leslie, and begin thumbing through racks of clothing while a model, Bruna, stands at the ready. The first time she went to an appointment with a designer, Claire thought she was supposed to wear the clothes herself. "The model was just watching me try everything on," she tells me, amused by her own naïveté. Now Claire stands, running her hands along a pair of pants with drapey pockets.
"I get nervous with these," she tells ­Leslie.
"Yeah," Leslie is quick to admit. "On the hips, that's very … specific." She picks up another pair in a filmier fabric. "I mean, honestly, I think it's better in this. It works more like a skirt. I can see, like, a really elegant woman wearing this."
"Mm hmm," Claire says, moving swiftly, every so often handing an item off to Leslie, who puts it on a rack for Bruna.
Alex points out a gauzy white dress with a plunging neckline. "That dress is gorgeous."
"I know," Claire agrees, pausing for a split second to appraise it more closely. "But white is a hard sell for a dress. You can't wear them to weddings or anything." She then notices that most of the dresses do not come with slips. This might pass muster in Europe, where a hint of nipple can work even on a relatively older woman, but it would be a problem in America. She also needs to find things with sleeves, for those who like to hide their upper arms. And if she buys pants, she needs a shirt to match. Some customers will only purchase a completed look.
Such are the sort of calculations Claire has had to learn, and quickly. A few days earlier, she had been ruminating over Alexander McQueen's ­camouflage-inspired resort 2013 collection. Sitting at her desk, she cut a number of pictures from the look book and spent over an hour arranging them like paper dolls on a sheet of paper. "It's like you have your thesis statement, and then you work around it," she said, searching for that signature piece to paste to the center of the page. "Versace makes the most amazing black pants and white jacket, but if I just told a black-and-white story, how could I tell why this season is this season?"
With the McQueen collection, there was a color-block shirt that she loved but that just didn't seem to belong. "It doesn't ­really speak to this other kind of style that he did," she murmured, moving the image back and forth off the page. "But it speaks to me more than anything else. The beauty of what I do is that I can make the decision that I'm going to keep this no matter what." She pasted it down.
Once completed, the collage would join the dozen or so others lining the wall of Claire's office. Then she would confer with Alex, who keeps a tally of the coffers, to decide how many pieces of each item they could afford. "She'll be like, 'We don't have money for this,' and I'll be like, 'I'm going to look at it anyway,' " Claire says.
When it comes to money, Claire doesn't shy away from disclosing that her father bankrolls her store. Nor does she deny that her upbringing—the trips abroad, wandering cities looking for unknown designers—contributed greatly to the development of her style. "I've always gotten a thrill out of people being like, 'Oh my God, what is that? Who is that? Where do I get it?' And I'm just like, 'You can't.' "
But as fundamentally important as Fred—which is what she calls her father when discussing business (off-hours, it's "Dad")—has been to the creation of Five­story, running a business with family has resulted in a few complications. During their first European buying trip, they got into power struggles in the middle of appointments. "Every time he said to me, 'No, I don't like what you picked,' I would freak out." Then Fred would tell her she was being mean, and, mortified, she would break down and cry.
"It almost killed us," she says. He's more diplomatic: "I think if one were to ask ten fathers and ten sons or daughters, they would all tell you that a father who has been around for so many years runs a business in a certain way, and the newer generation wants to do it differently."
Also problematic was the choice of ­locale. Claire envisioned her store in a townhouse. Then she found the perfect location, with less-than-perfect terms. "It wasn't for rent, it was for sale; and it wasn't for sale in two floors, it was for sale for the whole building. It's like walking up to an ice-cream truck and being like, 'I'm going to have a cheeseburger,' and they're like, 'That's not what we're offering.' "
A deal was eventually struck for Claire to rent three floors, with an ill-fated café slated for the third. ("Add 'food and beverage' to the list of things I know nothing about. Like, nothing.") Thinking her dream location had been secured, Claire chose the name Fivestory. Then she learned that the deal might fall through. "And I'm like, 'Holy shit, I'm losing that space that I've now promoted around town and named my store after.' "
By this point, she'd spent a million and a half dollars on fall inventory and hadn't even begun construction, which left her begging the very designers she'd once sought out to now take their orders back. All the while, she was looking to Fred for answers, and he was telling her that he had no idea what to do. The exotic-skins company had its foot in the fashion world—it manufactured handbags and belts—but he'd never done anything like this before. Some nights she'd come home so frustrated she would stand at the wall of windows in her boyfriend's apartment and scream at Astor Place down below.
These days, the mistakes are more manageable. Claire recently miswrote an order, and instead of supplying a single Ava dress (retail $4,000), the company custom-made and delivered an Eva dress (retail $7,000), which it then declined to take back. She'll sometimes forget appointments or mess up an address or, endearingly, show up to a photo shoot in a shirt with ­smudges. But she prides herself on being an ­approachable boss. While Fred keeps a separate basement office, Claire sits smack-dab in the middle of the room alongside the rest of Fivestory's administrative staff: Alex and an older account manager to her left, a Parsons intern and young PR woman, Kate, to her right. Much ­paperwork is moved around and many complex figures are parsed, while fingernails sometimes get painted or a debate erupts about the calorie content of kale chips.
Decisions in that room—if not always in Fred's office—are ultimately made by Claire, but she is quick to ask for advice on what sweater to order or what interview to do, and she tends to listen to the response with a sort of diligent schoolgirl's focus—eyes wide, lips pursed, head slightly cocked. Three months in, the store is on track to meets its goal, according to Fred, of becoming profitable within its first year of business. It recently did almost $30,000 of sales in one day.
And while Fred may still make Claire want to "throw my head out the window" when he insists on buying whitefish salad for the staff lunch, and he may still say he's "putting my foot down" about how many python-leather clutches to buy, they've finessed the division of labor. As long as he defers to her sense of style, she's willing to submit to his lessons on business acumen in the same studious way she might have once let him help with her homework. "The goal is for Claire to really understand the business, so at some point in time, you know"—Fred says, laughing—"I can go play golf."
At a recent meeting to brainstorm ideas for Fashion's Night Out, Claire wondered if maybe they could get Donatella Versace to stop by. "We're the only retailers that carry her main line, the Versus line, and the children's line all in one place," Claire reasoned. "Why not try?" The problem, though, was that even if Donatella said yes, what exactly was she going to do?
"Well, stand there and look like she looks," one saleswoman suggested.
"No!" Alex replied. "She'll do something. I don't know what, but—"
It helped that Fred had another idea. "I can ask Paul to come and sing a song."
"Paul who?" asked Kate.
"McCartney," he said. "I work out with him. On Tuesdays and Wednesdays. He calls me Fred."
The Fivestory launch party was ­fastidiously staged by PR juggernaut Karla Otto to be one of this year's Big Nights in fashion. Supermodel Anja Rubik, photographer Ellen von Unwerth, and fashion columnist Lynn Yaeger were in attendance. At the after-party at Mr. Chow, mirrored Andy Warhol balloons covered the entire ceiling, and the waiters wore specially designed lapel pins shaped like red lips, one of Claire's favorite fashion themes. She walked in and thought, I don't know anybody here. 
Then again, she was running on adrenaline by that point, having had no more than a few hours' sleep the past three nights as she and her staff and an army of construction workers saw Ryan Korban's interior design to completion. That morning she had been superhumanly calm during a 9 a.m. interview with Vogue's fashion news director, Mark Holgate, because she hadn't even realized whom she was talking to. Nor had she showered. It came as somewhat of a surprise to find that she was expected to be not just the creative force behind Fivestory but also its voice and face.
"I'm not a glamorous person," she tells me—a statement that had seemed far-fetched coming from a woman who once wore a satin Lanvin dress to a dive bar named Two-Shots. But the more we hung out, the more this seemed to be kind of, sort of, true. At dinner with friends at Café Select, Claire sat in a back corner, content to let her friends do most of the talking. Only when the evening got wine-soaked and maudlin did she step in to moderate, making sure one drunk friend got in a cab, talking another down from dating woes, and then gamely picking up the tab once—oops!—the others had deserted. The others, that is, except for Irina, one of Five­story's major Russian clients, who showed up later than expected with an entourage that included her lawyer. Claire seemed genuinely glad to see her, to learn the names of her friends, and to stick around while they made their way through a new round of drinks. But no, thank you, she would decline the offer to follow them to a nightclub. She needed to go home and sleep.
The night before, she'd stayed out long past midnight at the home of Ann Dexter-Jones, who had wanted to show Claire her jewelry line but had spent most of the evening doling out Champagne and telling stories instead: how Mick Jagger had teased her that she's the only woman to ever turn him down, how her children had answered the phone one day to find Sylvester Stallone on the other end of the line. Then, because it was getting so late, she'd offered Claire a "nibble," which turned into a generous but somewhat confusing array of sautéed string beans, lentil salad, chicken salad, egg salad, and spinach, and more tales of rock-star lovers and old New York. Suddenly, five hours had passed and Claire had to tear herself away, saying, "Do you want me to sleep over? Because I can't!" She hurried home exhausted but happy with how the business meeting had gone and wearing a new Dexter-Jones ring shaped like a kiss.
This story appeared in the August 20, 2012 issue of New York Magazine.