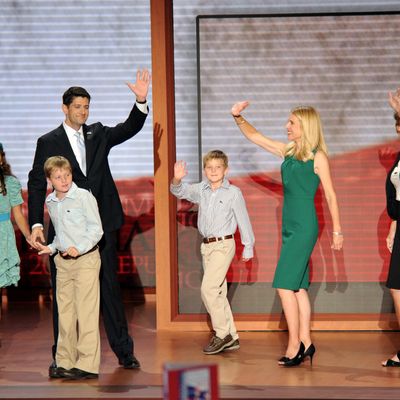 Janna Ryan, Paul Ryan, and other Ryans.
Photo: AFP/Getty Images
Janna Ryan has been out and about at the RNC for the last few days, but she got her big onstage moment on Wednesday night when her husband made his official debut. She wore this Talbots sheath dress — still available for $169, should you be interested — and looked very pretty, as usual. But most notably, she wore a pair of black heels that looked exactly like the ones Ann Romney wore with her Oscar de la Renta dress on Tuesday night. You could just chalk this up to coincidence, but we'd rather imagine that Ann took one for the team and swapped with Janna backstage. 
Ann: Cute dress, Jan!
Janna: Thanks! [Nods knowingly.] You know, 'bots.
Ann: I thought so. Our housekeepers all wear the same one in black. 
Janna: Wow. They must go through a lot of lint rollers.
Ann: [Confused smile.]
Janna: Anyway, do you think my shoes are okay?
Ann: Ooh. Umm. Hmm. Those aren't the porch party shoes, are they?
Janna: Err …
Ann: How about you just try mine? Just so I can see?
Janna: Really? Oh, you don't need to do that.
Ann: No, really, just try it. Just one foot. The Cut is totally going to write about your outfit tomorrow, so you want to look sharp. And they were so busy speculating about my Oscar de la Renta dress today that they probably never noticed the shoes.
Janna: Aw, these are cute. Thanks! Where are these from?
Ann: They're 50 percent off at Stuart Weitzman right now! I mean, I got them at full price, obviously.
Janna: Oh, hahaha! Of course. 
Ann: Hold up. Let me Facebook Sarah Palin real quick for advice on the pedicure.
Janna: Right. Peep-toes.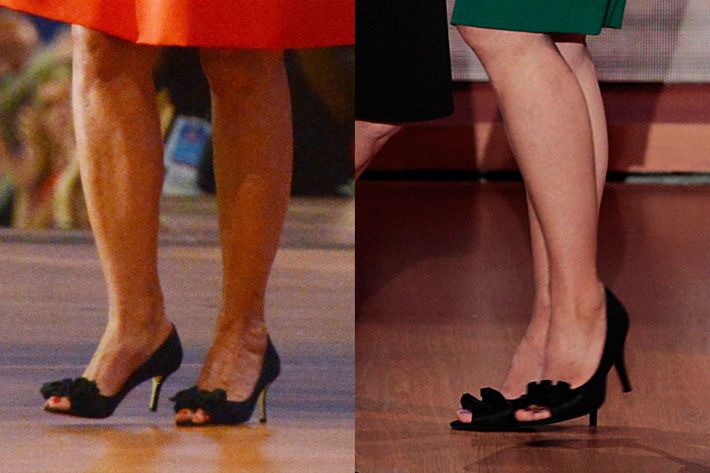 UPDATE: Further evidence of the Janna/Ann shoe-sharing has come to light! They appeared onstage together on Thursday night, with Janna wearing the aforementioned Stuart Weitzmans and Ann wearing a different, nude-colored pair (because her black ones were on Janna's feet, of course). See photo evidence, below.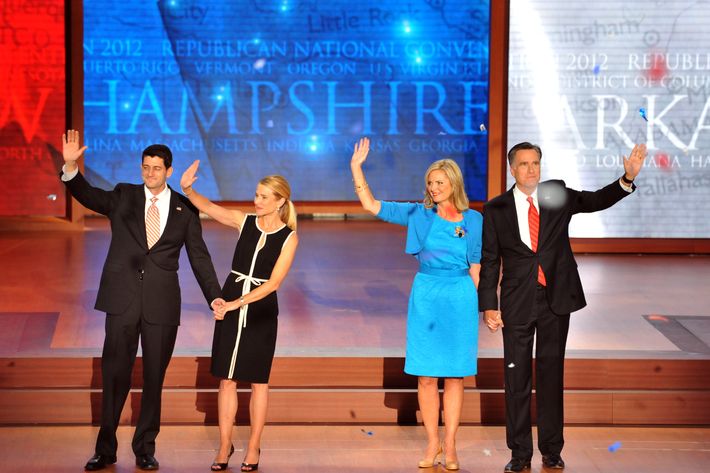 Related:
Did Ann Romney's Dress Have Anti-Obama Subtext?
The Paul Ryan Announcement: If These Clothes Could Talk