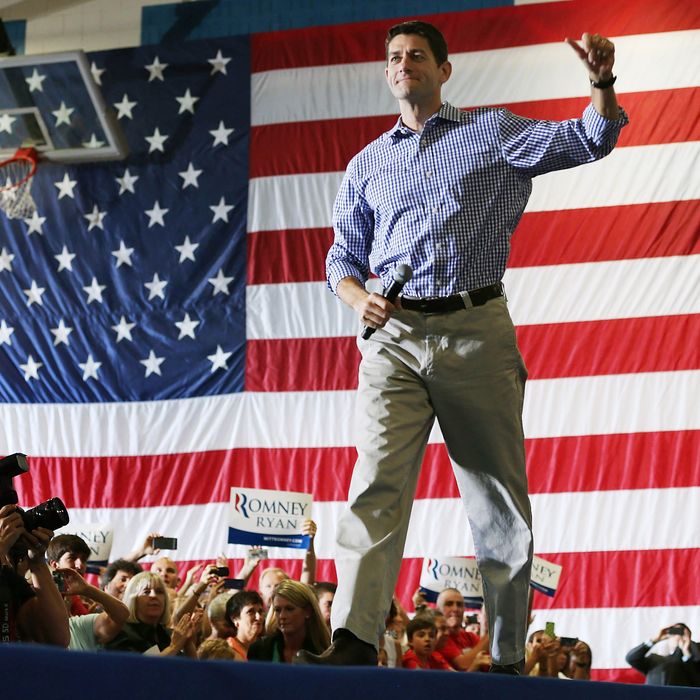 Photo: Mark Wilson/Getty Images
GOP vice-presidential nominee Paul Ryan telephoned biologically misinformed Missouri Representative Todd Akin yesterday, Politico reports, presumably to ask him to drop out of the state's Senate race, take a vow of silence, and stop sabotaging his campaign.
Representative Akin's comments Sunday — that women can't get pregnant from "legitimate rape" — largely served to draw attention to Representative Ryan's extreme views on abortion. Last year, Akin and Ryan co-sponsored the "No Taxpayer Funding for Abortion Act," the first version of which said that only victims of "forcible rape" would qualify for federally funded abortions (on the off chance their bodies failed to, in Akin's words, "shut the whole thing down"), seeming to draw a value distinction between violent rape and date rape, statutory rape, and incest.
Although many of his fellow Republicans have asked him to step down, Representative Akin put out an advertisement yesterday asking voters for their forgiveness. He has until 5 p.m. today to drop out.
The Ryan-Akin connection may have been a sobering moment for female swing voters, one President Obama swiftly capitalized on yesterday.
"Rape is rape," the president said in his first press conference in eight weeks. "The idea that we should be parsing, qualifying, slicing, what types of rape we're talking about doesn't make sense to the American people, certainly doesn't make sense to me. What these comments do underscore is why we shouldn't have a bunch of politicians, the majority of whom are men, making health care decisions on behalf of women."
And then he put Akin's name right underneath Rush Limbaugh's on the list of people to send thank you notes if he is reelected.