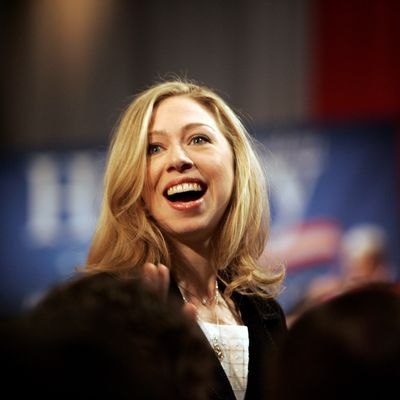 Photo: Melanie Burford/Dallas Morning News/Corbis
Fresh off the revelation that her mother, Secretary of State Hillary Clinton, does not sweat comes this intimate Chelsea Clinton factoid, from the September issue of Vogue: She is so absentminded that she forgets to lock the door to the bathroom.
During our travels, [Chelsea] left her BlackBerry on the takeout window of a drive-through in Joplin; her book on a plane in Bentonville, Arkansas; and forgot to lock the door to the single-toilet unisex bathroom backstage at the Kennedy Center, which Diane von Furstenberg opened on her. ("Happens all the time," says [Bari] Lurie, [her chief of staff.])
The public can look forward to even more charming Chelsea anecdotes in the future, as Jonathan van Meter reports that she has decided to embrace her celebrity.
"Either it was something I could continue to ignore or it was something I could try to use to highlight causes that I really cared about." Something finally clicked. "Historically I deliberately tried to lead a private life in the public eye," she says. "And now I am trying to lead a purposefully public life."
And, yes, that might include running for office, according to the tea-leaf readers at the New York Times.