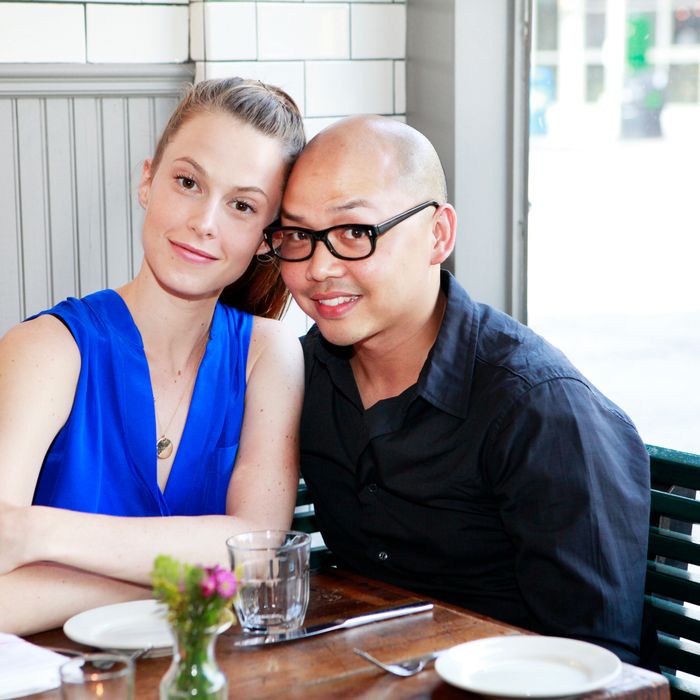 Elettra Wiedemann and makeup artist Daniel Martin first met at a shoot for Lancôme almost seven years ago. The model had just been named the brand's latest face and it was her first shoot for the company. "I had short hair, which I hated," she remembers. "I was intimidated by the whole thing — I was only a junior in college!" But the two hit it off from the start. She loved Martin's chilled out personality ("Some makeup artists smoke in your face and get really chatty, like overly chatty, but Daniel was neither"), and he admits he was was equally smitten ("I kept thinking, Her mom is fucking Isabella Rossellini!").  Since then, the two have been best pals and regular collaborators. Daniel even did Elettra's makeup for her wedding earlier this summer.  "Some people show up looking like Kim Kardashian on their wedding day. I knew Daniel wouldn't do that," says Elettra. "He sat next to me at the dinner, too."
So how did the "Titty" nickname come about?
DM: We were on a shoot for this photographer, Eric Guillemain. It was for this French magazine.
EW: So we show up at this guy's house and I have to wear this dress that basically had my titties out all day.
DM: I kept calling her Titty, because that was all I saw that day.
EW: And then I started calling him Titty, and ever since then I know him by no other name. Sometimes James, my husband, is like, "Is Daniel coming over?" and I'm like, "Who? Oh, you mean Titty?"
What's the most memorable shoot you've done together?
EW: I remember once we did another shoot with Eric, it was at the Gramercy Park Hotel. And all of the sudden I was just surrounded by total loony bins.  Like, every single crazy person in New York congregated where we were shooting, and there was one guy in particular making these noises right next to me. Do you remember?
DM: [laughs]
EW: At first it was funny, but then he like stayed there for, like, 45 minutes and it got a little intrusive. I mean, there's only so long you can avoid somebody like that, but then Titty was suddenly standing next to him …
DM: I get really protective of her.
EW: I think you kind of intimidated him, because he went away right after. It was really cute, because you were standing super strong, but you had a makeup brush in your hand.
How have Elettra's beauty habits evolved?
DM: I remember when we first started, you had this thing about hating powder.
EW: Yeah, and I used to be like, 'Gross … eyeliner.' I was still doing high school makeup when I was, like, twenty-two.
DM: Now she does her makeup really well on her own. Like today it looks great.
EW: Does it? I tried contouring.
DM: I can see, it looks really good! [laughs]