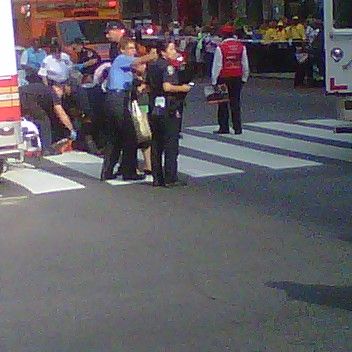 The scene on W. 33rd Street.
Photo: @bicyclesonly
Today's Empire State Building shooter has been identified as 53-year-old Jeffrey Johnson, a former designer of women's accessories for Hazan Imports, according to Police Commissioner Ray Kelly. Johnson was fired from his job about a year ago, Mayor Michael Bloomberg said in a press conference. Around 9 a.m. today, he shot and killed his former supervisor, 41-year-old Steven Ercolino, and then fired at random and injured eleven other bystanders (none of them seriously) before he was killed by the police. 
Hazan Import Corporation, located at 10 W. 33rd Street, just across the street from the Empire State Building, is a private company that specializes in wholesale handbags; Johnson reportedly tried to enter the building before 9 a.m. this morning but was turned away by security. No one at Hazan will comment on the shooting or on Johnson's dismissal at this time, although the Times reports that Ercolino and Johnson had a physical altercation two years ago.