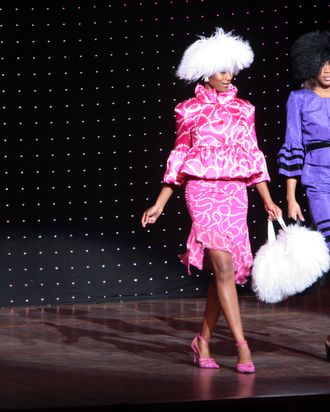 Ebony Fashion Fair's Fit to Be Fabulous fashion show in 2005.
Photo: The Washington Post/Getty Images
Last week, Vanity Fair released this year's edition, comprising a set of names that the editors agreed upon after throwing spaghetti at a wall and studying the shapes until they saw Kate Middleton and Morley Safer spelled out. But while we briefly dissected the rankings before continuing to watch Blake Lively's Gucci video on repeat (really — how can she walk across the sand in those shoes?), Cathy Horyn spent some time with Joy Bivins of the Chicago History Museum to discuss an exhibition on the Ebony Fashion Fair … which led the Times critic to wonder why publishing executive Eunice Johnson never earned a spot on the International Best Dressed List, decided upon by publicist Eleanor Lambert until her death in 2003. Horyn writes, "Ms. Johnson was far ahead of her time in recognizing that fashion should be beautiful but not elitist … Even if she had more substantial accolades during her lifetime, surely her activities and personal taste merited this small attention," a.k.a. a place on the International Best Dressed List.
Horyn tracked down Lambert's biographer John Tiffany, who spoke of a rivalry between the two women. She explains:

After all, as the first organizer of the American fashion shows, Ms. Lambert was on a mission of her own, and her chief constituency was the out-of-town press. At its peak, the Ebony Fashion Fair stopped in about 180 cities. Mr. Tiffany speculates that Ms. Johnson's success, as well as her wealth, "was a sore spot for Ms. Lambert."
She adds, "In this one respect, the Best Dressed List is not frivolous." In this one respect.