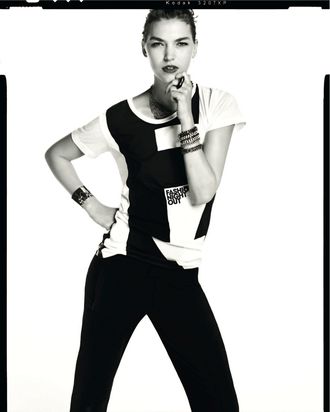 The new FNO t-shirts.
Photo: Courtesy of Conde Nast
Fashion's Night Out 2012 unleashed its website today, complete with new commemorative t-shirts (proceeds go to charity, as always) and a full calendar of events on tap for the evening. Although we can't look at the logo without thinking EFF NO, the site is quite user-friendly, allowing you to curate your activities based on neighborhood (makes sense), category (menswear, womenswear, etc.), and specialty (i.e.,"Will there be free booze?!", which everyone knows is the best part of the evening). Either way, most of us will spend the evening holed up somewhere that is not Soho, given that we'd happily shop drunk any other day of the year when the streets are not swamped with confused tourists wondering why nothing is actually on sale.
But if you genuinely do enjoy taking to the streets in the name of fashion, the occasional free crudite, and the chance to glimpse Vogue editors, designers, and other fashion-related celebrities who have agreed to make public appearances that evening, then mark your calendar and start planning your evening (tip: wear flats). Indeed, there are some interesting and amusing possibilities this year: unsurprisingly, the ubiquitous Kardashians and their significant others will make a strong showing, with Kim hawking perfume at Lord & Taylor's Fifth Avenue flagship and Scott Disick giving a cigar-rolling class at Macy's Herald Square location. Most noteworthy (and adorable!) from a high fashion perspective: Balenciaga's Meatpacking boutique will debut a new capsule collection that features Vogue editor Grace Coddington's drawings of her cat, Pumpkin.