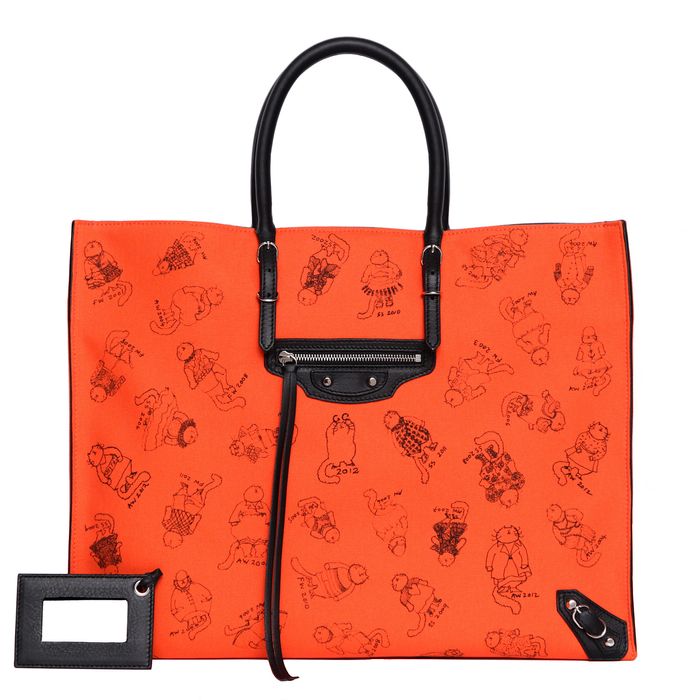 The "Pumpkin Papier" bag.
Photo: Courtesy of Balenciaga
As previously reported, Grace Coddington has designed a capsule collection with Nicolas Ghesquiere for Balenciaga named after her cat, Pumpkin. According to a press release from the label, the line of scarves and bags will feature Coddington's own drawings of her petit chat modeling various Balenciaga looks from the past decade. Here's what you can look forward to when the line launches (on Fashion's Night Out, of course):
Central to the new accessories line is the "Pumpkin Papier" tote bag ($1,000). Produced in either ecru or bright pumpkin canvas with black calfskin trim, the bag is decorated with a playful print of Pumpkin the Cat wearing Balenciaga by Nicolas Ghesquière.
Two printed "Pumpkin" scarves round out the collection, one in a classic silk twill and one in fringed wool and silk ($395 and $495, respectively).
If this all sounds excessively expensive, bear in mind that they're donating 20 percent of the proceeds to the Animal Rescue Fund of the Hamptons. So should someone's prizewinning spaniel wander off in Sag Harbor, know that Balenciaga will keep him safe.