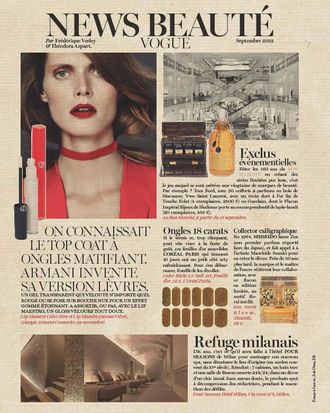 Photo: Courtesy of French Vogue
The glossy's September issue (featuring separate covers of Kate Moss, Lara Stone, and Daria Werbowy in the same Dolce & Gabbana dress) hits newsstands in Paris today, and inside are Emmanuelle Alt's inaugural design tweaks since becoming editor-in-chief last year. From a press release:
In anticipation of a shift in the mentality and behavior of its readers, Vogue has taken the decision to revisit the way it presents itself, without changing the fundamentals. A new layout, and new section organization have been designed to provide this iconic magazine with greater harmony, and better readability, rhythm and femininity, as befits the leading women's fashion title.
Click ahead to see the magazine's updated look. (Warning: There is exactly one exposed nipple in our slideshow. Plus ça change … )