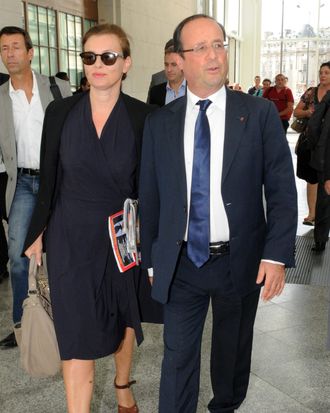 Trierweiler and Hollande.
Photo: MEHDI FEDOUACH/AFP/GettyImages
With François Hollande now at the helm, seventeen female ministers were appointed to government roles, equaling the amount of men in office. And WWD points out that the group of women are "mostly in their 30s," two decades younger than the typical politician, and "elegant, fit and feminine," preparing us perfectly for the following anecdote:
Wearing a blue-and-white flowered dress by U.K. mail-order clothing company Boden (a shirt dress named Riviera priced on the French version of the Web site at 119 euros, or $146.57 at current exchange rates, currently discounted at 59.50 euros, or $73.29 dollars), Cécile Duflot, minister of territorial equality and housing, had to endure whistles from male deputies last month as she walked down steps to stand in front of the National Assembly. [Christophe Girard, head of fashion strategy at LVMH Moët Hennessy Louis Vuitton] cried foul, deeming the episode sexist and macho. "Would men endure boos when wearing quirky socks?" he asked.
Well, define "quirky." But, according to Amor Ouni, who consults with Valérie Trierweiler on her wardrobe, being a woman in French politics, at least, boils down to a damned-if-you-do-and-damned-if-you-don't situation. Ouni remarked, "If you dress up, everyone makes a comment. If you don't, it is even worse … 'Normal chic' is what I try to achieve in terms of looks for [Trierweiler]." Though they'd never whistle at the "first lady," the male deputies probably pass notes about her clothing when Hollande's not looking.