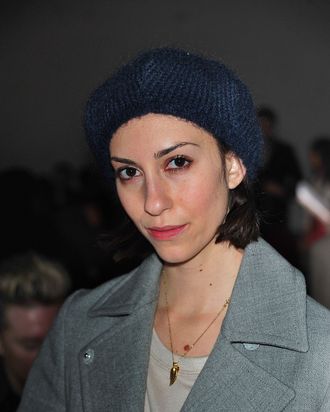 Gia Coppola.
Photo: Brian Killian/WireImage
Twenty-five-year-old Bard graduate Gia Coppola, granddaughter of Francis Ford and niece of Sofia, got her start in fashion film when she did a short video for her friend Wendy Mullin, who runs the Built by Wendy label. Opening Ceremony saw the clip and asked her to work with them; Zac Posen, Diane von Furstenberg, and Rodarte followed suit. "It just spiraled," said Coppola, who has a quiet, childlike voice and describes herself as "very shy." She most recently did a video for Elle China, which she shot in Las Vegas, and she's currently preparing to speak at the inaugural Portable Curators Conference, which takes place on September 5 at Lincoln Center. She spoke to us earlier this week from her apartment in L.A. about her career plans, shopping habits, and carbohydrate-loving cat.
How did you get started doing fashion videos?
I had just finished college and I wasn't really sure what I wanted to do. I was trying all sorts of things, like bartending school. I studied photography at Bard, but I just felt tired of it. Someone asked me to be in a video, but didn't want to be in it, so they told me to make my own, and that seemed more fun to me. 
Would you call yourself a fashion person?
To a certain extent, I like fashion, but sometimes I just want to be comfortable and don't really care. I enjoy fashion photography and textiles, that whole aspect of it. As more of an art form, I like Proenza Schouler. Those guys are really cool because they seem to have an interesting approach to it all.
How do you describe your own style?
I'm pretty lazy. I don't like shopping, so I'll look online. I like going to the flea market at the Rose Bowl every once in a while. I like the same stores, Opening Ceremony and APC.
Would you say that there's a distinctive aesthetic to your films?
I don't know. I always like if there is a little bit of humor and a bit of romance – those are recurring themes that I keep trying to play with. I always want to do something that sounds fun. We did a video in Japan not too long ago, and we had limited space and had to use the store as the set. To make it fun and new for me, I decided to add wings and make the model fly, because I had never used a rig before. So she's wearing a harness and flying around. I love to play with the gadgets that come with film.
What was your education in film before you started doing this?
I guess being around my family, [working with film] was always normal. But I studied photography in school, and films seem like an extension of photography, so it didn't seem too different. But you get to add certain extensions like writing and music, and you have more camera elements to play with. You get to make it come alive.
Have you ever been in your own films?
Definitely not. I don't like being in front of the camera.
Tell me about your future plans.
I like writing a lot, and I hope to move myself out of the fashion industry a little bit. I hope to continue working with fashion, but I also want to make something longer. I'm trying to write more, too. I've only ever taken a playwriting class, but I like creative writing and writing screenplays.
Is this conference going to be the first time that you've spoken publicly about your work?
Yeah, I'm really nervous.
How are you preparing?
I have no idea. Usually when I get nervous and don't know how to prepare for something, I just don't do anything at all, which is not necessarily the best idea. I should maybe think of a plan.
I know you have a Tumblr. Is this all your own photography?
Yeah, it's all mine. My camera broke, so I haven't been posting many pictures, but it was a way to keep up photography, by having a place to show pictures to my friends and my family. My camera broke, so I've been posting pictures from my phone.
You posted a photo of a cat eating a waffle. Is she yours?
Yeah. I don't have her anymore, but my cat was obsessed with carbohydrates.