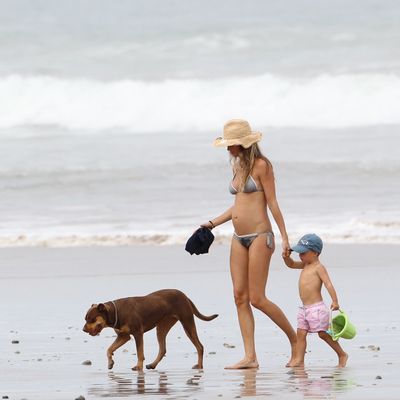 Pregnant Gisele in Costa Rica last month.
Photo: X17Online.com
After wearing suspiciously baggy T-shirts, hiding her stomach in photo shoots, and looking uncharacteristically big-bellied in Costa Rica last month, Gisele has finally announced her pregnancy in an interview with South American network TV Global. The segment won't be broadcast until Sunday the 25, according to British Vogue, but the model reportedly says she's five months along — a Christmas baby! — and "very happy." (In related news, if you type "Gisele Bundchen" into Google, "Gisele Bundchen pregnant" pops up before "Gisele Bundchen diet," which is really saying something.) Mazel to her and Tom; their first child, Benjamin, was born two years ago.