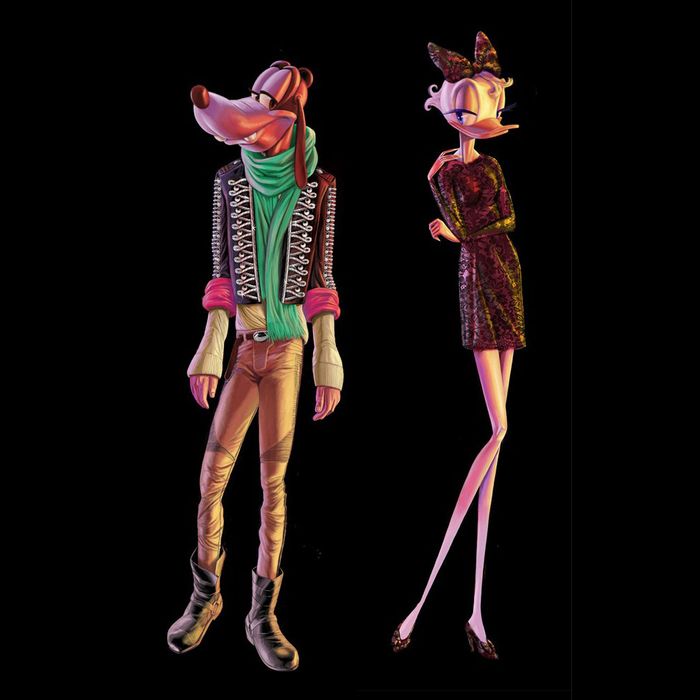 Goofy and Daisy in their designer outfits.
Photo: Courtesy Barneys/Disney
Every fall, Barneys gins up some wacky concept for their holiday windows. Two years ago, it was food; last year, Lady Gaga. This season, it's Disney characters! But fitting into sample sizes proved difficult for the animated creatures and their sausage-y limbs, so Goofy, Daisy, Minnie, and the rest of the crew have spent the summer drinking liquefied spinach and hitting SoulCycle. Et voilà — they got their big "skinny" reveal in today's WWD, their "after" bodies clad in Lanvin, Dolce & Gabbana, and Balmain.
Apparently the Barneys bigwigs were sold on the idea last March, when they took a group trip to Disney World "in the name of research," WWD reports. The theme, titled "Electric Holiday," will be unveiled on November 14 with the following events:
A three-dimensional electric light show; a moving art short film in the window displays that will turn Disney's most favorite heroes into runway supermodels and fashion regulars into Disney types, and an original score by Oscar-winning composer Michael Giacchino.
Let's hope this means what we think it does: Supermodels and other fashion people will dress up as Disney characters and dance around to music. Way to top last year's Gaga-themed armadillo-shoe cookies, guys.