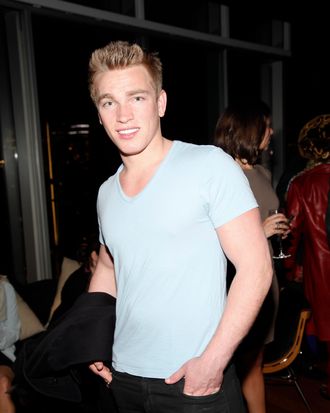 Sadly, this is not the picture of Nick looking studious.
Photo: ADRIEL REBOH/Patrick McMullan
The former boyfriend of Calvin Klein and noted author wore tortoiseshell glasses and a suit to Manhattan Criminal Court today, where he faced his misdemeanor assault charges for beating up 20-year-old Calvin Swint in April. He was joined by a different friend of the female persuasion, who goes by "Nastia." She wore a tank top that read "Don't give a" and "depicted a naked man embracing a naked woman from behind." More from the News:
Gruber "did grab (Swint's) genitals and did seem jealous of him," a Manhattan assistant district attorney said during the spring arraignment.

The fight started about 4:30 a.m., when Gruber invited [Swint] "to go out in the hallway and, unprovoked, punched him in the face," the prosecutor said.
Soon after, the police arrived and found cocaine in Gruber's pockets, and we know the rest. Anyway, Gruber was sentenced to twenty hours of community service, which also gets him out of his drug possession charges. To avoid talking to reporters as he left, "he pretended to be taking a call on his iPhone even though the screen was black." Pretty smart! It's all in the glasses.