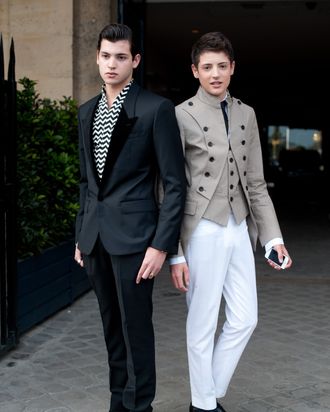 Photo: Kirstin Sinclair/Getty Images
For Interview's September issue, the brothers Brant answered a set of questions pulled from a longer list that Andy Warhol would have handy while speaking with the likes of Bianca Jagger and Diana Ross in the seventies and eighties. Harry is swiftly becoming the more quotable of the two siblings, saying that what he appreciates about New York City is "[t]hat you can go outside at any time and go to a Duane Reade that's open 24 hours" (don't they have a handler for that?), and "I think that collectively, as a country, we don't have good taste." As for his own:
WARHOL: What kind of clothes do you like?

HARRY: Everything. A mix of women's and men's clothes. Even for the shoot I did for Interview, they needed to get a lot of women's clothes because I'm so skinny. A lot of men's clothes don't fit me — they have to be really heavily altered. But I love a bolero! I've got to have one of those. I love very clean lines and then a little craziness. I like to keep changing clothes and almost dress up to take on different characters — to be a bullfighter, or a soldier, or a general, or a prince, or a robber.
In part two, Peter and Andy talk about Communism, the possibility of living forever, and where he likes to dance.
PETER II: Not on tables! But I go to clubs occasionally, dance clubs. I don't think house music is very conducive to dancing. I like when they mix it up — old music and new music. But I do like to go to places with a little bit of dancing. I always try to dance at least for a few songs. I have a couple girlfriends who are very light on their feet, but then there are other people who can't dance at all — very heavy on their feet. They're just standing there, looking awkward, and you're dancing around them. I have a lot of guy friends whose dance is standing holding a bottle in one hand and waving their other hand around, making a gesture with their finger. Is that a dance?
Peter, that's how they do in the Hamptons.