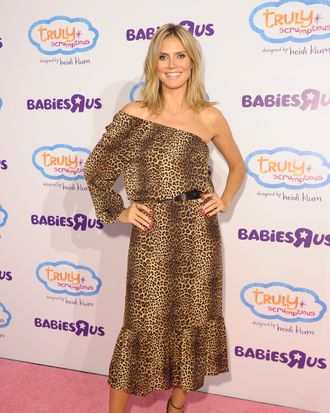 Heidi Klum.
Photo: Michael Loccisano/Getty Images
It may have been overcast and drizzly in New York City yesterday, but inside Babies"R"Us, it was all pink carpets, lemonade, and fried quinoa balls in honor of Heidi Klum's new line for the retailer, Truly Scrumptious. The mid-priced collection spans clothes, bedding, strollers, and cribs, with all the design motifs that make new moms feel hip (butterflies, monsters, zebra stripes, faux-fur). Wearing a one-sleeved leopard-print dress by Michael Kors and strappy Alaïa sandals, the supermodel-mom-of-four seemed quite at home amid the displays of Baby Björns and Bunnies by the Bay onesies, although she acknowledged a certain amount of bafflement. "There's things where you're like, Really?" she told The Cut in her unmistakable German lilt. "For example, I'm not really a fan of wet wipe heaters." (You indulgent American parents!)
So, we asked Klum, what's new these days with Johan, Leni, Henry, and Lou? "They're really into fake poops and things," she said. "I come home and there's a turd on the floor, and I'm like, 'Ooh, who pooped on the floor?!' and they're like, 'Ha!' They think that's the funniest thing right now. That and, you know, all the fart things that you sit on." Then again, Klum's tots have gotten their hands on more rarefied playthings too. "If I go to the Emmy's or a big event like that, [jeweler] Lorraine Schwartz comes by with boxes of jewelry. There's literally diamonds all over the place and Leni's little fingers all over them. She'll be holding $50,000 earrings to her ear — and I'm like, Okay, let's count everything!"
The Babies"R"Us collection is just the latest addition to the Project Runway star's growing empire, which also includes a maternity line for Pea in the Pod and shoes for New Balance. Klum, who described the creative process of designing for babies as "magical," explained that even the name of the line has personal significance. "Chitty Chitty Bang Bang was always a favorite movie of mine, and 'Truly Scrumptious' is [a song] in the movie,"  she said. "I thought it was such a great name because children are truly scrumptious. You know, you want to squeeze them and eat them." Like a tasty bratwurst quinoa ball.