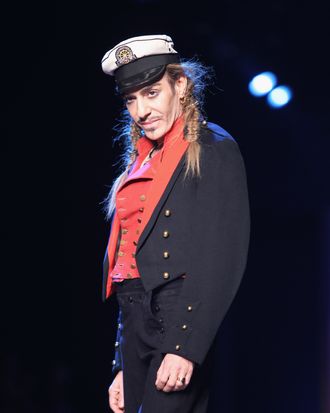 Photo: Tony Barson/WireImage
According to AFP, the French president published his decision to revoke the designer's award in the country's official journal on Wednesday. Galliano was decorated as a Chevalier of the Legion of Honor in 2010. Last year, he was convicted of making anti-Semitic remarks to patrons in a Parisian café and fined $6,000 euros, and dismissed from his posts at both his namesake label and Christian Dior.
Rarely does France strip an individual of his or her Legion of Honor, but there is precedence: In 1999, Vichy official Maurice Papon lost his after being found guilty "of complicity in Nazi crimes against humanity during the German occupation in World War II" (but was buried with the medal when he died eight years later), and Gerard Depardieu almost had to return his in 1998 upon being charged for drunk driving. At the time, the actor said, "I would be happy to turn it in," but he never did.