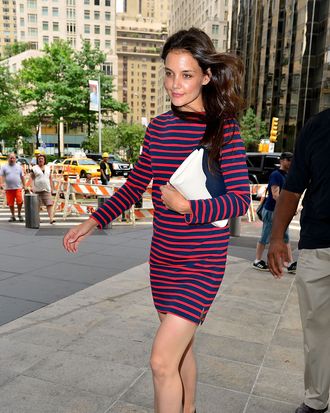 A fashion show unto itself, this.
Photo: James Devaney/WireImage
Holmes & Yang, the fashion label that co-founder Katie Holmes has been plugging hard since her divorce, reportedly set the date for their spring 2013 fashion week presentation a few weeks ago (it's Saturday, September 8, at 9 p.m., according to WWD — and contrary to other reports, it won't conflict with Victoria Beckham's show time at 10 a.m. the following morning). Now the Post confirms that the Holmes & Yang presentation will take place at Lincoln Center. According to their unnamed source, Holmes chose to show at the tents because, as her August Elle profile demonstrated, she wants to prove that her label isn't just some vanity project she works on in between lunching on frites with Suri in the Meatpacking District.
Reports the Post:
A source told us, "This is a big deal for Katie to show in the tents, under the full attention of the fashion editors and the glare of the media scrutiny. They could have done a small show elsewhere, so this proves she and Jeanne are very serious about their business." 
Speaking of Holmes, she made her first outing as an officially divorced lady last night, wearing her signature brown booties and a questionable pink striped dress to dinner at Red Rooster in Harlem. You can judge her clothes all you want, but the woman's got great taste in restaurants.