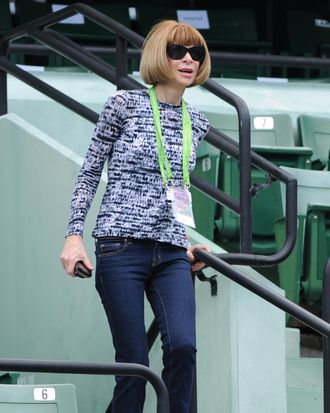 Anna, watching tennis.
Photo: Uri Schanker/2011 Uri Schanker
Although Anna Wintour told R.J. Cutler that she wanted a better backhand, apparently she could improve her "spin," too, according to her instructor at the Midtown Tennis Club, the subject of a piece in today's Times. Apparently THE place to go for tennis in Manhattan — despite the fact that "the space between the baseline and the wall is infamously cramped," ugh — Wintour plays there regularly, along with other fashion people like Sean Avery, Hilary Rhoda, and Vanity Fair's Jessica Diehl. Amazingly, you don't even need a membership to play, which means that you or I could just stroll in and ogle Anna in her white skirt (it's on 27th Street between Eighth and Ninth Avenues, should you be interested).
The article name-drops a dozen or so fashion people who enjoy tennis and, better yet, quotes the Midtown Tennis Club instructors on how good they are. Anna is quite skilled, of course, says her wonderfully named instructor, Byron Spence: "She's like a retriever," he explains. "She's so fast. She'll chase down everything. She doesn't hit with a lot of spin, but she has an amazing cross-court forehand." Meanwhile, he says that her colleague Jillian Demling "is pretty good" but "could be great, if she was able to cut down on her hours at Vogue." #Excuses.